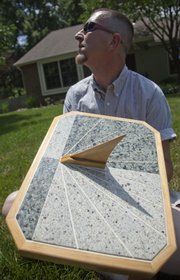 Like many others, Michael Eravi, 39, chose the well-worn path in his early life.
"I spent a lot of time trying to make as much money as I could and have all the trappings that went with it," he admits. "The pursuit of money didn't make me happy, and I couldn't trust anyone. I knew I needed to make big changes in my life and travel a different path."
He's now on the less-traveled path, is self-employed and happy with a simpler lifestyle.
Eravi was born in Harrisonville, Mo., but he moved around the country, living with different family members after his mother died when he was 6 years old.
He felt rudderless and rebellious.
"When I turned 20, I realized that unless I changed something about my life, I wasn't going anywhere but down," he says.
He joined the Navy in January 1990 and served in the Flying Squad aboard U.S.S. England during Operation Desert Shield.
"The service was my best option to get out of the environment I was in and learn a better way of life," he explains.
After his discharge in 1993, he moved to Iola to deal with family challenges and worked in a convenience store. He moved up the retail ladder rapidly and within six months was promoted to manage a Lawrence store.
He moved into the construction field in 2004 and helped to build high-end Lawrence homes. His life at times was outwardly successful, but he struggled inwardly and knew he wanted to make changes. He met his wife, fellow traveler Janet Horner, near the end of 2004.
"Janet's the first person I felt I could trust," he says simply. "She's helped me change and grow. She's encouraged me on my inner journey, and we share the same values."
Those values include living simply, caring for and respecting people and the environment, and serving in the community.
"Janet kept encouraging me to find work where I could be happy, so I decided to take the risk and become self-employed," he says.
In January 2007, he became the "Homeowner's Helper." He provides services including carpentry, tile work, window and door replacements and general repairs.
"I love what I'm doing," he says. "I don't have someone telling me to hurry at the expense of quality, or take short cuts to save money. I do the work because it makes me happy I'm able to make a little money at the same time."
An article in the National Geographic magazine about "keeping time" and the Sundial Bridge in California inspired him to create a sundial for his garden. His friends were so impressed with his creation they placed orders. He's now busy creating and working on different designs.
"Making sun dials seems appropriate," Eravi says. "I've reached a time in my life where I'm willing to face the shadows and more able to enjoy the sun."
Copyright 2018 The Lawrence Journal-World. All rights reserved. This material may not be published, broadcast, rewritten or redistributed. We strive to uphold our values for every story published.