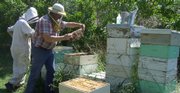 Anthony Schwager came home during the third grade with the idea of raising bees. Little did his parents know that it would be the start of a successful business for their developmentally disabled son and the entire family.
National attention keeps coming for a young Lawrence man and his family's thriving rural Douglas County business —Anthony's Beehive.
Anthony Schwager, 22, and his family, who own the beehive business together, will be featured in a three- to four-minute segment on CNN (Sunflower Broadband channel 44, and 244 in high-definition) between 6 a.m. and 6:30 a.m. Saturday. It will be replayed on CNN Headline News (channel 43) between 12:30 p.m. and 1 p.m. Saturday and 9:30 a.m. and 10 a.m. Sunday.
"We are so excited that we were able to get national attention," said Anthony's mother, Terri Schwager.
Anthony and his family, who live southeast of Lawrence, started the company several years ago, and it has since expanded to selling honey, honey straws, lip balm and lotion in the area.
Anthony, who was born with a global developmental delay, also has epilepsy and is blind in his left eye. Anthony's father, Tony Schwager, and Terri worried about limitations for Anthony as he grew older.
But Anthony has persevered and with strong support from family and friends, he developed his own beehive operation into a thriving business. He now has 200 hives in Douglas, Leavenworth and Franklin counties.
The family and the business have received national media attention before, including a feature in Fortune Small Business in 2008. A CNN producer visited Douglas County in late May and interviewed the family. The crew taped them setting up products at Local Burger, 714 Vt., and Community Mercantile, 901 Iowa.
Anthony's brothers, Brandon, 21, and Adam, 19, and his sister, Mariah, 16, also were filmed with the family at the River Market in Kansas City, Mo.
The attention is great for Anthony and the business, his mother said. She has even passed along word about the CNN story from their Twitter profile, AnthonysBeehive.
However, her hope is that his story serves as an example to encourage other families across the country who have children with disabilities. Anthony could be a role model for other who want to start similar business ventures.
"Then I feel like we're meeting our calling," Terri Schwager said.
Copyright 2017 The Lawrence Journal-World. All rights reserved. This material may not be published, broadcast, rewritten or redistributed. We strive to uphold our values for every story published.