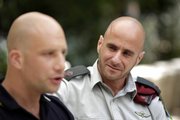 New York — When it comes to dealing with gay personnel in the ranks, the contrasts are stark among some of the world's proudest, toughest militaries — and these differing approaches are invoked by both sides as Americans renew debate over the Pentagon's "don't ask, don't tell" policy.
In the United States, more than 12,000 service members have been dismissed since 1994 because it became known they were gay. Current targets for discharge include a West Point graduate and Iraq war veteran, Army National Guard Lt. Dan Choi.
In Britain, on the other hand, uniformed gay and lesbian service members marched in the annual Pride London parade July 4. Gay Australian soldiers and sailors had their own float in Sydney's Gay Mardi Gras parade. In Israel, the army magazine earlier this year featured two male soldiers on the cover, hugging one another.
America's "don't ask, don't tell" policy — which prohibits gays from serving openly — is the target of intensifying opposition, and President Barack Obama says he favors lifting the ban. But he wants to win over skeptics in Congress and the Pentagon, and a fierce debate lies ahead that will inevitably touch on the experiences of allied nations that have no bans.
U.S. Rep. Patrick Murphy, D-Pa., the first Iraq war veteran elected to Congress, has just launched a campaign for a bill to repeal "don't ask." He observed British troops in Iraq operating smoothly with a serve-openly policy and bristles at the contention that American forces would suffer morale and recruiting problems if they followed suit.
"I take it as a personal affront to our warriors," he said. "To say that other countries' soldiers are professional enough to handle this and American soldiers aren't is really a slap in the face."
Those seeking to preserve the U.S. ban question whether the allies' experiences have been as smooth as advertised and depict America's military as so unique that lessons from overseas should be ignored anyway.
"We are the military leaders in the world — everybody wants to be like us," said Brian Jones, a retired sergeant major who served in the Army Rangers. "Why in the world would we try to adjust our military model to be like them?"
With such polarized views as a backdrop, Associated Press reporters examined how the militaries of Israel, Britain and Australia have managed with serve-openly policies, and interviewed partisans on both sides of the debate in the United States about the relevance of those experiences.
Israel
A nation in a constant state of combat readiness, Israel has had no restrictions on military service by gays since 1993.
Gays were permitted to serve even before then, but not in certain intelligence positions where, at the time, they were deemed possible security risks vulnerable to blackmail. Now, gays and lesbians serve in all branches of the military, including combat duty.
Maj. Yoni Schoenfeld, a gay officer who is the editor of the military magazine, Bamahane, said there was little friction in the ranks related to gay soldiers.
He served as a combat soldier and as commander of a paratrooper company, and said his sexual orientation — though known to fellow soldiers — was never an issue. Gay jokes would sometimes surface, usually not malicious, he said, while receptiveness to gays in combat units could vary. "Those who are more feminine in their speech and appearance have a harder time fitting in."
Schoenfeld's magazine has reflected the evolving attitudes. In 2001, it was shut down briefly after featuring an interview with a retired colonel who had come out of the closet. Yet this year, there was no adverse reaction to the cover picture of two male soldiers embracing.
The military also provided the backdrop for the 2002 movie "Yossi & Jagger" about two Israeli combat soldiers who fall in love on the front lines. It was a hit with critics and the public, and was even screened on military bases.
Australia
Back in 1992, Anita Van Der Meer was threatened with discharge from the Australian navy for being a lesbian. She denied the allegation to save her job — and later that year the military's ban on gays and lesbians was lifted.
This spring, Van Der Meer marched proudly with more than 100 other service members in Sydney's annual Gay and Lesbian Mardi Gras Parade under an Australian Defense Force banner.
Now a chief petty officer, Van Der Meer was a junior sailor in 1992 when someone reported she was engaged in a same-sex relationship.
"It was very traumatic for me," said Van Der Meer, 41. "But I still had the cooperation of my supervisors and my peers."
Chief Petty Officer Stuart O'Brien, who joined the navy 19 years ago, said being openly gay has not been an issue, even when working alongside U.S. military personnel in Baghdad in 2006.
"They valued the work that I did, and that's all that it comes down to at the end of the day," O'Brien said.
The lifting of the ban was preceded by heated debate, yet the change itself was relatively uneventful.
Among opponents of the change at the time was Australia's main veterans group, which later withdrew its objections.
The group's president, retired Maj. Gen. Bill Crews, said concerns about lowered morale and HIV transmission on the battlefield proved ill-founded.
"I thought there'd be a continuing problem because of prejudice that exists in parts of the community," Crews said. "I don't see any evidence now that homosexuals are in any way discriminated against. ... A homosexual can be just as effective a soldier as a heterosexual."
Britain
British policymakers had been wrestling for years with whether to scrap a long-standing ban on gays in the military — but the pivotal decision was made abroad, by the European Court of Human Rights in Strasbourg, France.
The court ruled in 1999 that Britain had violated the rights of four former service members who were dismissed for being gay and lesbian.
At the time, there was significant opposition to the change among military officers. There were predictions that unit cohesion would suffer and that large numbers of personnel would leave the military if gays could serve.
Lord Alan West, former head of the Royal Navy and now Britain's terrorism minister, served before and after the ban was lifted.
"It's much better where we are now," West said. "For countries that don't do that — I don't believe it's got anything to do with how efficient or capable their forces will be. It's to do with other prejudices, I'm afraid."
He added: "I think the Americans really need to make the move."
Mandy McBain joined the Royal Navy at age 19, in 1986, at the lowest possible rank. Now a lieutenant commander, she remembers what it was like to serve when being a lesbian had to be a secret.
"It's exhausting," she said. "It's quite incredible to look back and see how much time and energy I spent leading a double life."
Military expert Amyas Godfrey of the Royal United Services Institute, a London think tank, was serving with the army in Northern Ireland when the policy changed.
"I remember our commanding officer at the time called the entire battalion together and said, 'This is how it is going to be now. ... We are not going to bully. If someone in your group says that he is gay, you treat them as normal,"' Godfrey recalled.
"And that, really, was the implementation of it. For all the years I served after that, it was never an issue."
United States
For those in the U.S. military community who oppose letting gays serve openly, there's a widely shared sentiment that America has nothing to learn from the two dozen nations that have no bans.
"Who's the only superpower military out there?" argued Maj. Brian Maue, a professor at the U.S. Air Force Academy, in a debate in June in Chicago. "This is hardly convincing to say, 'Ah, the others are doing it. We should, too."'
Maue — who says he's been speaking out on his own, not as a military spokesman — also suggested in an online forum that "an openly gay military would be the heterosexual equivalent to forcing women to constantly share bathrooms, locker rooms and bedrooms with men."
Retired Army Lt. Col. Robert Maginnis, another supporter of the ban, contends that some field commanders in nations that allow gays to serve openly have resorted to "tacit discrimination" — excluding them from front-line units for fear that problems would surface in rugged, close-quarters living conditions.
Repealing the U.S. ban would trigger the departure of some career service members who object to homosexuality and deter some people from enlisting, said Maginnis.
Advocates of open service for gays acknowledge there would be some hitches but predict the overall change would be smooth.
"There's been very little trouble in the nations that lifted their ban," said professor David Segal, director of the University of Maryland's Center for Research on Military Organization. "My guess is there will be slightly more in the U.S. — we have a somewhat higher level of intolerance."
However, Segal doubted the change would spur a large exodus or hamper recruitment.
"There will be some gay bashing at the unit level, and that will be a problem in the short run for NCOs and junior officers," he said. "But they will deal with it, just as they dealt with racial integration and gender integration."
Nathaniel Frank, a researcher at the University of California, Santa Barbara's Palm Center and author of a book on "don't ask, don't tell," says his studies of allied nations suggest that lifting the ban in the U.S. would not impair overall military effectiveness.
"There will be some forms of de facto discrimination and prejudice — a policy change is not going to wipe that out of people's hearts and minds overnight," he said. "But more and more people in the military are seeing it doesn't serve them to have this policy in place."
Copyright 2018 The Associated Press. All rights reserved. This material may not be published, broadcast, rewritten or redistributed. We strive to uphold our values for every story published.