Lawrence City Golf Tournament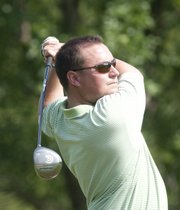 He was too busy fulfilling the duties of his new job at Golf USA to be thinking about his putting woes when a sales rep from Rife walked through the door. Jared Repola had no way of knowing it would be the first step in reversing his flat-stick fortunes, but he knows it now.
Using a brand-new Rife Blade putter he received in the mail Friday to make a 27-foot, 8-inch birdie putt on No. 17 at Eagle Bend, Repola fired a 72 on Saturday, good for second place halfway through the Lawrence Amateur Golf Association City Tournament.
Gunning for his fourth consecutive City Tournament title, Conrad Roberts leads Repola by a stroke and will have the home-course advantage going for him today as the tournament shifts to Alvamar public for the final round.
"I had been in such a putting slump I was willing to try anything new," Repola said during a quick break at Golf USA, where he raced to start his shift after completing his even-par round. "A rep came in and let me try a Rife Blade. I putted well here with it and ordered one. It came in (Friday), just in time for the tournament. I played a round (at Eagle Bend on Friday) and putted well with it."
Repola's big putt on No. 17 to a challenging pin placement earned him a gift certificate on the longest-putt hole. He'll gun for a bigger prize today.
"I feel like one of those underdogs coming up, looking more forward to playing with him than trying to compete with him," Repola said of Roberts. "That's where you learn, playing with players like that. That'll be really fun playing with him. If nothing else, it will be exciting to watch him play. I had no expectations today. If I made a bogey, I tried to get it back with a birdie."
The expectations change today for Repola, who said that when he met Roberts at the 23rd Street Brewery post-tournament party a couple of years ago, he was "in awe."
"When I saw 71 was the best score, I thought to myself, 'I'm only one back.' That's not much at all," Repola said. "I could accidentally get lucky tomorrow, get (an early) birdie and be tied with him."
Still, he knows the odds are not in his favor. Repola's the Rocco Mediate, Roberts the Tiger Woods in this equation. A 2008 graduate of Kansas University with a degree in psychology, Repola, 24, last played golf for a team at Olathe East High. He said the City Tournament is the only one he's playing this summer.
"The length of the course is in his favor," Repola said. "Playing the tips at Alvamar is a lot different from playing the tips at Eagle Bend. I'm going to have hybrids and long irons into the green and he's going to have mid-to-short irons in all day. It's going to be hard. We're going to Conrad's home course. He's leading the tournament. I haven't played Alvamar in probably two months. I'll just hit it one shot at a time. If I mess up, let it go and move onto the next shot."
Roberts tends not to mess up and didn't Saturday, but he didn't drain long putts on this hot afternoon, either. He doesn't play Eagle Bend very often and doesn't know the greens there as well as he does those on his home course. Eagle Bend's greens are slower than Alvamar's.
"I used a heavier putter today," Roberts said. "I don't like to change my stroke, so I try to compensate for the difference in speed by the weight of the putter. The heavier the putter, the harder the ball should come off."
With Roberts leading the field, the margin for error will be slim for every golfer trailing him. Roberts is a plus-three handicap, which means that if he's playing a three-handicap golfer in a match, he must give him a shot on six holes. In this tournament, handicaps only are used to determine in which flight golfers compete.
"Of course I like being ahead," said Roberts, 34, Business Manager at University Press of Kansas. "My handicap is such that I never get shots and the way I look at it, the field is giving me a couple of pops."
Chad Roesler and Drew Walters, both of whom shot a 74, will join Roberts and Repola in teeing off at 10:43 a.m.
Walters used his Taylor Made Burner driver to crank 300-plus-yard tee shots. He plays regularly with Roberts. Will he try to get in his friend's head while competing against him today?
"No, we're too good of friends for that," said Walters, who works at Alvamar and is an assistant golf coach at Mill Valley High. "Besides, I tried that Thursday and all that did was make him mad and when he gets mad he starts playing better."
The first day of the women's division wasn't as hotly contested. Carol Rau established a comfortable lead, firing an 81, 10 strokes ahead of her closest competitor, Holly Richey. Similarly, Galen Smith takes a comfortable lead into today's final round after firing a 75 Saturday, good for an eight-stroke lead on Walt Kihm in the Super Senior championship flight.
All the other divisions are tightly bunched at the top, most interestingly the men's senior championship flight. Mike Grosdidier, reigning state senior amateur player of the year leads with a 72. Grosdidier and Douglas Wilson, who enters the day a stroke back, showed there can be two extremely different ways to reach nearly the same result in golf. Grosdidier kept it in the fairway and routinely had two-putt greens for par. Wilson found the rough often and recovered with numerous up-and-down pars. John Emerson (74), Greg Wyatt (75) and Jamie Sansell (76) also are in contention, but with Grosdidier returning to his home course, he shapes up as the favorite.
John Sell (81) leads Ted Brecheisen by a stroke in the Super Senior A Flight. David Greenamyre leads the Senior A Flight with an 82 and has five golfers within four strokes of him. Neal Ezell fired a 78 to lead the men's A Flight and seven competitors are within four strokes of him. Maurice Monteau, who fired an 82 in the B Flight, also gets a chance to show how well he can withstand the pressure of competing from in front.
Copyright 2018 The Lawrence Journal-World. All rights reserved. This material may not be published, broadcast, rewritten or redistributed. We strive to uphold our values for every story published.