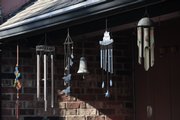 Sometimes, brightening up the neighborhood is as simple as encouraging a little friendly competition and planting a few flowers, as demonstrated by the Elsie Sharp Community Beautification Contest at Edgewood Homes.
The contest, established by the Lawrence-Douglas County Housing Authority in 2002, encourages residents to do a little landscaping in their yards. The resulting gardens are simple yet charming, and the hard work of garden owners is evident in the cheery blossoms of black-eyed susans and other flowers at the homes.
Elsie Sharp was a tenant at Edgewood for nearly 30 years and was known for her beautiful garden as well as her volunteer work in the community and poetry.
The contest rules and participation guidelines are simple. In the spring of each year, the Housing Authority reminds Edgewood residents of the contest and lets them know the date when gardens will be judged. A few resources with information about landscaping and ideas for plant selection are made available to residents. Modest cash prizes, plaques and bragging rights encourage participation.
"It's really a great way to get the community looking nice and get the tenants to participate," says Natalie Mulryan, management specialist with the Housing Authority. Residents are allowed to nominate themselves or their neighbors, and winners are selected by three nonresident judges.
One of the winners of this year's contest, Cindy Foster, says that her garden has been an effort of friends and family working together. The first few perennials that she planted were lost to mowers, so she knew she needed to establish a more defined planting bed. Foster's daughter and a few friends gave her the materials needed to edge a small garden, and her sister gave her a birdbath as a gift.
Foster is also getting her grandchildren involved – teaching them how to water and care for the flowers as they grow.
Balloon flower (Platycodon grandiflorus), black-eyed susan vine (Thunbergia alata), and white mandevilla vine (Mandevilla sp.) are my favorite selections from the winning gardens. Although neither of the vines are hardy in Kansas, seeds can be collected from the black-eyed susan vine and planted in spring or fall, and the mandevilla can be cut back and overwintered indoors.
Many residents used perennials that I like to think of as good standbys because of their consistent performance in our area, including daylilies, sedums, gladiolus, iris, chrysanthemums and standard black-eyed Susans. Annual flowers, which typically bloom all summer, add a lot to the display when mixed in with the perennials. Marigolds, zinnias, dusty miller, petunias, celosia and cosmos grace the patios and landscapes with their brilliant hues.
— Jennifer Smith is the Douglas County Extension Agent-Horticulture for K-State Research and Extension. Contact her or an Extension Master Gardener with your gardening questions at 843-7058.
Copyright 2018 The Lawrence Journal-World. All rights reserved. This material may not be published, broadcast, rewritten or redistributed. We strive to uphold our values for every story published.