Past Event
When: Saturday, July 11, 2009, 7 p.m.
Where: Municipal Auditorium, 301 W. 13th St., Kansas City, MO
Cost: $6.50 - $16
-->
-->
Women in short skirts and fishnet stocking, hurtling around a track in roller skates and knocking the stuffing out of one another, isn't traditionally held in the highest esteem among the pantheon of athletics. If you were under the impression, however, that roller derby was an estrogen fueled sister to professional wrestling—a sham spectacle more theater than sport—then let the litany of injuries suffered by the ladies of the Kansas City Roller Warriors disabuse you of that notion.
"So far in my career, I've had a concussion, I've been out for 6 months with severely sprained ACL and LCL ligaments in my knee—I have to wear a giant brace now when I skate—and I cracked my tail bone," ticks off Lauren "Auntie Embolism" Taylor from her list of lumps.
"I broke my arm at tryouts," says Tonya "Yvette Yerass" Hagedorn.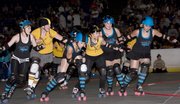 "I got hit by a skater named 'Missile Toes,' and I did one those split landings. When I went to brace myself, my arm hit the floor in just the right way and it popped. I took off my wrist guard afterwards and saw my arm was in a weird shape that I'm not used to. I broke the radius and the ulna. I had a cast from my armpit to my knuckles for a month and a half."
Rachel "Iron Lung" Loder, begins her injury inventory innocuously enough. "Lots of bruises," recalls Loder. "I have what I call my 'perma-bruise' on my left hip. It's this lump that doesn't want to go away. I've had a couple concussions." She eventually had to leave active duty in the league, though, due to the most dreaded of injuries in roller derbydom—the "9 Month Injury." Yup, she didn't get knocked out, she got knocked up.
Not that such a trifle completely sidelined her. "I skated for about a month and a half before I signed what they call 'The Injury Form.' They call this the 'Ultimate Injury.'"
Roller Derby Rules (from "Roller Warriors" series)
Despite her active gestation, Loder just gave birth to a healthy and unbruised 7lb, 11oz boy. She plans to remain involved in an administration role with the Roller Warriors and hopes to return to the rink as soon as possible. As with so many of her fellow roller Amazons, over 80 athletes in 5 teams within the Kansas City Roller Warriors, Loder just can't stay away from the derby. Even though they break bones for no monetary reward—in fact, they spend a great deal of their own money on dues and equipment—some women are just addicted to roller derby.
"It's something you love and you hate at the same time," admits "Auntie Embolism" Taylor of what she calls a "very expensive hobby." "You hate it because you're hurting all the time and you don't want to go do it, but you can't help love it. All of us, to a degree, enjoy the limelight of it. You become a pseudo celebrity. Once in a great while, you get recognized by people."
"I went to a game in 2007, and within 5 minutes I was instantly hooked," says "Yvette Yerass" Hagedorn of the beginning of her infatuation. "I had to be a part of it because it was so cool. It's so much more of a time commitment than you realize. Physically, it's more of a commitment than you realize. But working together will all girls in the league is fantastic. We're like a dysfunctional sorority. It's just a great sisterhood. I've never had close friends like I've had in roller derby."
Fight with Ref, 2009
That sense of family, combined with a killer workout, also attracted "Iron Lung." "I was a competitive gymnast all the way through grade school and junior high," says Loder. "I enjoy just the pure athletic, competitive part of it. I missed having that kind of outlet for my emotions and for exercise. And I really enjoy the team atmosphere. This is a family. We have 80 ladies, but they're all essentially your mother or your sister or your best friend."
"There's the women empowerment aspect of it," adds Taylor. "You don't see women playing very physical contact sports very often. There are women of all different sizes and all different shapes. Tiny little girls who look like they couldn't weigh more than a hundred pounds and big burly girls. There's a lot of femininity to it, but still the strength of playing a full contact sport."
KC All Stars vs. Texas Rollergirls, 2008 (from "Roller Warriors" series)
There are hundreds of leagues across the country, and it has a hsitory dating back to the 1800s, but roller derby still has a reputation as a cult sport on the fringe. "It's something you have to see to understand," urges Taylor. "I had family members who were very apprehensive when they found out I joined. They thought it was just a bunch of tattooed, mean alternative girls. But when they came and watched the games, they really enjoyed the sport of it. It's very fast paced. People love seeing spills, whether it's someone getting tackled in a football game or when a NASCAR car crashes. Spills are a big part of roller derby. It's your goal as a blocker to get people out of the way, and if you can send them flying it gets them out of the way even longer."
Put succinctly by "Yvette Yerass" Hagedorn, "We beat the crap out of each other and that's kind of cool."
Recap of Season, 2007
Copyright 2018 The Lawrence Journal-World. All rights reserved. This material may not be published, broadcast, rewritten or redistributed. We strive to uphold our values for every story published.