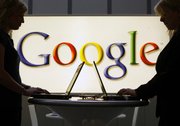 Sun Valley, Idaho — Google Inc. is hoping to gain greater control over how personal computers work by developing a free operating system that will attack Microsoft Corp.'s golden goose — its long-dominant Windows franchise.
The new operating system will be based on Google's 9-month-old Web browser, Chrome. Google intends to rely on help from the community of open-source programmers to develop the Chrome operating system, which is expected to begin running computers in the second half of 2010.
The early versions of the Chrome operating system will be tailored for "netbooks," a breed of low-cost, less powerful laptop computers that are becoming increasingly popular among budget-conscious consumers primarily interested in surfing the Web.
That is a direct challenge to Microsoft, whose next operating system, Windows 7, is being geared for netbooks as well as larger computers.
The vast majority of netbooks already run on Windows, and that is unlikely to change unless Google can demonstrate that Chrome is a significant improvement, said Forrester Research analyst Paul Jackson.
Google struck a confident tone in a blog posting late Tuesday night announcing its operating system. The Mountain View, Calif.-based company believes it can streamline the operating system to improve speed and reduce security threats.
"We hear a lot from our users and their message is clear — computers need to get better," wrote Sundar Pichai, Google's vice president of product management, and Linus Upson, Google's engineering director.
Investors seemed to be betting on Google Wednesday as its shares rose $5.86, or 1.5 percent, to close at $402.49. Shares in Redmond, Wash.-based Microsoft inched up 3 cents to $22.56.
The success of the Chrome operating system will likely hinge on its acceptance among computer manufacturers that have been loyal Windows customers for years, said Matt Rosoff, an analyst for the research group Directions on Microsoft. Getting consumers and businesses to switch to a new operating system won't be easy, as Google has learned from the introduction of Chrome. Google says about 30 million people are using Chrome, a small fraction of the Web surfers who rely on Microsoft's market-leading Internet Explorer.
"It's going to be tough," Standard & Poor's equity analyst Scott Kessler said of Google's foray into PC operating systems. "The reality is that as the importance of a device or task increases, people have a much lower inclination to consider a change."
Businesses will be especially reluctant to abandon Windows because, on average, about 70 percent of their applications are designed to run on that, said Gartner Inc. analyst Michael Silver.
"This is going to generate a lot of hype, but it will probably be three to five years before it has any noticeable impact on the market," Silver said.
Consumers are likely to be more tempted to experiment with the Chrome operating system because it probably will further decrease netbook prices.
Microsoft's operating system typically adds $50 to $100 to a computer's price, Silver said.
Now Google is aiming for Microsoft's financial jugular.
Microsoft has drawn much of its power — and profits — from the Windows operating system that has steered most personal computers for the past two decades. The research firm IDC estimates the Windows operating system and software applications accounted for about $29 billion, or 58 percent, of Microsoft's revenue last year.
Google chief executive Eric Schmidt and co-founders Larry Page and Sergey Brin have not concealed their disdain for Windows.
Schmidt has said Microsoft sometimes unfairly rigs its operating system to limit consumer choices — something that Microsoft has consistently denied doing. Google fears Microsoft could limit access to its search engine and other products if Windows is set up to favor Microsoft products.
Schmidt and Brin are expected to discuss Google's new operating system this week when they appear at a media conference hosted by Allen & Co. at the Sun Valley resort in Idaho.
Copyright 2018 The Associated Press. All rights reserved. This material may not be published, broadcast, rewritten or redistributed. We strive to uphold our values for every story published.