Photo Gallery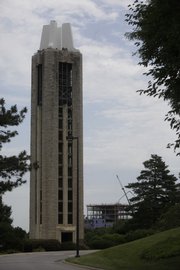 The Oread rises at the intersection of 12th and Oread
After months of work, The Oread is taking shape atop Mount Oread. The hotel is scheduled to be completed by the end of February.
Among features lined up for inclusion in The Oread, a hotel and condominium project slated to open early next year at 1200 Oread Ave.:
Fifth floor: An outdoor patio and bar, available for rental for special events such as weddings, with room for 300 or more guests.
Lobby (main) level: Hotel lobby; a restaurant, to be called 521; and Bird Dog Bar, with outdoor seating that looks out over both 12th and Indiana streets.
Lower level (first one below ground): Ballrooms and meeting areas, including a media room with theater seating for 45 people, catering to intercollegiate athletics teams and business groups. Three features a pizza/salad bar, a spa, and a Jimmy John's sandwich shop; each will have access from both the hotel and from Indiana Street.
Lowest level (underground, below the 200 spaces spread among three levels of parking): Dance club with room for about 300 people; adjacent bar area available for rental by businesses or other groups.
The view from up here, some 90 feet above street level, affords Casey Stewart some perspective that few others get a chance to enjoy.
"I'm so used to it now — I see it every day — but it's still amazing," said Stewart, a construction superintendent for DFC Co. of Lawrence LC, part of the team building The Oread at the northern edge of Kansas University's main campus. "You can see such a long way."
The distant sight lines — well past Sixth Street to the north, into the Wakarusa River valley to the south, De Soto to the east and down onto Mark Mangino's football practice field to the west — won't be ultra-exclusive visions for much longer.
Construction of The Oread remains on schedule for completion by Jan. 1, in time for operators to open their 108 hotel rooms, six condominiums, three bars, several banquet facilities, meeting rooms, retail shops and other amenities in late winter.
It's a tall order: 113 feet, to be exact, from 12th Street to the "upper observation level," a 900-square-foot stone deck at what is the building's 10th floor above ground.
Including the five levels below ground — one for banquet, fitness, retail, meeting and office areas, then three more for parking and a fifth for laundry and a subterranean dance club — and it adds up to a $32 million investment.
"It will be an attraction for Lawrence," said Nancy Longhurst, general manager for The Oread and two associated properties, The Eldridge and The Eldridge Extended, in downtown Lawrence. "We have a wonderful opportunity to showcase both the university and Lawrence."
The project won approval at City Hall based upon a plan that limited the building height, both in terms of its actual height and its effective appearance. The building itself cannot rise beyond 114 feet above the floor at the lobby entrance; the rooftop of the seventh floor cannot surpass 105 feet.
Above that, the "floors" — a level of condos with a few outdoor terraces, plus an observation deck above and then a final, smaller deck on top — are arrayed like building blocks, gradually working inward like a pyramid to lessen their visual impact amid The Oread's surroundings.
"It diminishes the bulk and the presence of the overall structure," said Sandy Day, a city-county planner who analyzed the project for the Lawrence-Douglas County Planning Commission and Lawrence City Commission.
While people may have envisioned the project as reaching only seven floors above ground, she said, levels eight, nine and 10 all were approved as part of the project's plans.
"It wasn't limited to the number of stories," Day said. "It was limited to an overall dimension."
Stewart, for his part, reports to the construction site each day welcoming the project's challenges, including:
• Materials stored in east Lawrence, because the lot has little room for anything other than equipment and a construction trailer.
• A concrete pump that can't reach the far end of the building, requiring workers to climb scaffolding before pouring concrete into support columns, one 5-gallon bucket at a time.
• A certain acceptance of familiarity, whereby once-extraordinary sights morph into merely pedestrian images that end up being taken for granted.
"You can look down on the hawks flying around," Stewart said, shrugging his shoulders as an especially broad wingspan executed a smooth glide past the seventh floor. "It's just neat."
By February, such views will be available for visitors, guests, residents and owners of The Oread to see on a regular basis, too.
Copyright 2018 The Lawrence Journal-World. All rights reserved. This material may not be published, broadcast, rewritten or redistributed. We strive to uphold our values for every story published.