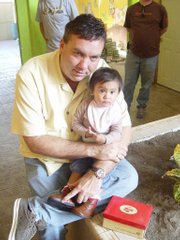 Soles4Souls has a simple mission: to affect as many lives as possible with the gift of shoes.
This Nashville-based nonprofit organization facilitates the donations of both new and used shoes, which are used to aid people in need worldwide. Soles4Souls has distributed more than 5 million pairs of shoes, currently donating one pair every 13 seconds, to people in over 120 countries, including Honduras, Uganda, Romania and the United States, since it was formally organized in 2006.
The Founder and CEO of Soles4Souls, Wayne Elsey, has been involved in the footwear industry since he was 15. He started his career selling shoes on the floor of a retailer and worked his way up to serve as president and CEO of several footwear companies in the United States.
After the 2004 tsunami that hit southeast Asia, Ensley wanted to help but didn't know what to do. As he watched the aftermath of the storm on TV, he saw an image of a single shoe washing up on the beach. After a few calls to people he knew in the footwear industry, a quarter of a million shoes were donated for victims in the devastated countries.
The next year, the same group sent more than a million pairs of shoes down to the gulf coast communities affected by Hurricaine Katrina. One year later, Soles4Souls, which collects "gently worn" and new shoes, as well as cash donations, was created.
Linda Lester, owner of The Etc. Shop in Lawrence, got involved in the project soon after that.
"One of our vendors, Brighton Leather Goods, asked all of their retailers if they'd be interested in housing a collection box. I thought it was a good cause," Lester says.
She adds that many of her customers are repeat contributors to the box.
It is estimated that Americans have 1.5 billion pairs of unused shoes sitting in their closets. Elsey says the shoes collected from donations from these closets are donated to victims of natural disasters or people living in extreme poverty.
"We use the shoes taking up space in your closet to change the world one pair at a time," Elsey says. "This is one of the most simple, yet profound, gifts you can make, because it can greatly improve someone's life in the most difficult of times."
Lester says her customers have been very supportive of the program.
"We've had a good response and are still collecting shoes," she says.
To learn more about the program, how to contribute, and to find other collection boxes visit Soles4Souls Web site at www.giveshoes.org.
Copyright 2017 The Lawrence Journal-World. All rights reserved. This material may not be published, broadcast, rewritten or redistributed. We strive to uphold our values for every story published.