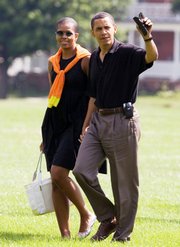 Washington — Determined to change the way the world views the United States, Barack Obama is onto his next foreign mission: rebuilding relations with Russia, proving to global leaders that America is serious about climate change, and outlining his vision for Africa, his father's birthplace.
And when in Rome? Obama will go to the Vatican to see Pope Benedict XVI for their first meeting.
Obama's weeklong trip — he leaves tonight for Moscow — typifies the pace of his first-year agenda.
Capitalizing on his popularity and his party's hold on power in Washington, Obama is moving quickly and broadly on foreign policy. That means overturning George W. Bush's policies or mending relations that Obama contends went adrift under his Republican predecessor.
Hostile faces
Familiar foes may shadow Obama and his plans.
Iran and North Korea are defiantly pursuing nuclear weapons programs despite international penalties. Iran has taken a hard and deadly line against postelection protesters, while North Korea fired seven ballistic missiles off its eastern coast on America's Independence Day. The North also has raised the prospect of a long-range missile launch, possibly toward Hawaii. The U.S. has positioned more missile defenses around the state.
Obama's trip is anchored around a yearly meeting of leaders from the world's industrial powers, set for Italy. The Group of Eight countries — the U.S., Japan, Germany, France, Britain, Italy, Canada and Russia — will try to make progress on climate change.
Before the Italy meeting, Obama will conduct a nuclear-arms-focused summit in the Russian capital. The final leg brings him to Africa, home to Obama's late Kenyan-born father.
Obama set a tone for the Moscow meeting by saying in an Associated Press interview Thursday that he was off to a good start with Russian President Dmitry Medvedev. But, Obama added, Vladimir Putin — Medvedev's predecessor and the current prime minister — "still has a lot of sway in Russia." Putin responded Friday by poking fun at Obama's imagery and saying the new U.S. president is wrong about him.
Obama expects to emerge from Moscow with a framework for how the U.S. and Russia will go about reducing their stockpile of nuclear warheads. He and Medvedev stated their intentions toward that goal in April during a London meeting that had both leaders talking of a fresh start. Both sides hope to have a final deal before the current treaty expires in December. And still unclear is whether Russia will insist on linking its weapons reduction to an issue it says is related — U.S. plans to build a missile defense system in Europe.
Obama plans to give a major address on U.S.-Russia relations and meet with a range of civic leaders, hoping to turn around Russian attitudes of the U.S.
Rest of the journey
In Italy, the G-8 site was moved from a deluxe seaside resort in Sardinia to a military school in L'Aquila, where an earthquake in April killed 300 and displaced tens of thousands. Obama is expected to get a look at some of the damage.
A powerful aftershock hit the town Friday, just days ahead of the leaders' arrival.
The international summit will address the recession but is expected to produce more of a recovery progress report than new policy. Iran, climate change, food security in Africa, Middle East peace and trade also are on the agenda.
Obama will meet the pope on Friday. The president caps the trip in Ghana, a West African country that has emerged as a standout example of democracy in a region beset by coups. He will speak to parliament, emphasizing the promise of democratic governance.
Copyright 2018 The Associated Press. All rights reserved. This material may not be published, broadcast, rewritten or redistributed. We strive to uphold our values for every story published.