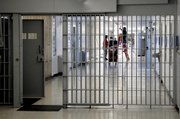 Marion, Ill. — Once the nation's most secure prison, the federal lockup in southern Illinois has housed everyone from spies to a Colombian druglord to dapper mob boss John Gotti.
Now the mayor of Marion hopes to roll out the welcome mat for a new set of accused criminals: Guantanamo Bay terrorism suspects.
While other cities across the U.S. have balked at taking in any of the more than 200 detainees from the infamous lockup in Cuba that President Barack Obama hopes to shutter, Marion is part of a small contingent seeking out the prisoners — and the money and jobs they might bring.
"We have the facility, and I say bring them on," Mayor Robert Butler said.
Research needed
Butler would have to clear many hurdles before that would happen, chief among them persuading the Bureau of Prisons to restore his town's medium-security prison to its former high-security status. Sen. Dick Durbin of Illinois, the Senate's second-ranking Democrat, has asked the bureau to study the issue of housing Guantanamo detainees at super maximum-security prisons and of possibly returning the Marion facility to that status.
Marion and other communities like Thomson, Ill., Hardin, Mont., and Florence, Colo., are bucking a trend since Obama announced he wanted to close the Navy-run detention site.
Capitol Hill critics have criticized Obama's plan to empty the prison early next year without detailing what to do with its prisoners. Congress has blocked the administration from spending any money this year to imprison the detainees in the United States.
Some prisoners already have been transferred to other countries, and the Obama administration is negotiating with foreign leaders to accept others.
But relocating Guantanamo's prisoners to U.S. soil has been thorny partly because the nation's federal prisons already are near capacity. For now, the Marion prison has more than 930 inmates and a couple dozen empty beds, spokesman Tom Werlich said.
Neither the Bureau of Prisons nor Werlich would speculate about whether the sites would be able to accommodate Guantanamo's inmates.
Other competitors
Marion could have competition. In tiny, economically distressed Hardin, Mont., officials figure a brand-new, empty medium-security jail built two years ago for $27 million is ready to have Guantanamo's displaced fill many of its 460 beds — even though the state's congressional delegation thinks it's a bad idea.
Many residents in Florence, Colo., also have spoken in favor of housing some of the Guantanamo detainees at the nearby federal supermax prison.
In Thomson, in western Illinois, the high-tech, maximum-security wing of a prison completed in 2001 at a cost of $140 million remains unopened. Jerry Hebeler, the village's president, says he would welcome Guantanamo detainees in some of the wing's 1,600 cells. At the same time, many towns with federal prisons and their representatives in Congress have made clear they don't want to inherit any Guantanamo transplants.
Lawmakers have filed bills to keep detainees out of their states, with reasons ranging from inadequate prison space to the proximity to high-population centers.
Marion could have an edge over many other locations. Butler figures the prison, which ceded its status as the nation's most secure lockup to Florence in the mid-1990s, can be returned to ultra-secure status far more cheaply than building a new prison or overhauling an existing one.
The infrastructure remains, including many now-empty guard towers, and the 900-acre expanse leaves room for additions.
Refilling many of the jobs could be an economic boon: A corrections officer there averages $52,000 a year, with the starting salary at $40,016. That's huge in a region beset by recent plant closures, including the 1,000-worker Maytag factory in nearby Herrin.
Copyright 2018 The Associated Press. All rights reserved. This material may not be published, broadcast, rewritten or redistributed. We strive to uphold our values for every story published.