Photo Gallery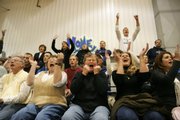 Bishop Seabury boys vs. Veritas
Skyler Malone wasn't sure whether illness or adrenaline triggered his sudden stomach spasm in the first quarter of Seabury Academy's boys basketball game Friday night.
All he knew was that he needed to exit the gym immediately.
"I had to go outside and take care of some business," the Seabury forward said.
But after losing his lunch — and his dinner — Malone left city rival Veritas Christian feeling queasy.
Malone's return helped Seabury defeat Veritas, 46-39, at Seabury in the teams' first-ever boys basketball matchup.
He scored 11 points and hauled in a game-high 13 rebounds, including three big defensive boards in the closing minutes to help preserve the victory.
"Skyler can do that every game," Seabury coach Mike Harding said, particularly citing Malone's offensive play. "I've just got to get him to that mind-set not to force anything, but when it's wide-open, to stroke it. And he did that tonight. He came up big today."
It probably was a good thing Malone left when he did Friday because the Eagles' first-quarter play was enough to make any Seahawks fan nauseated.
Veritas shot a blistering 9-for-13 (69.2 percent) in the first quarter to grab a 19-13 lead in a fast-paced opening eight minutes.
The Eagles (4-10) attained their largest lead, 23-15, when Malone finally returned rejuvenated in the second quarter.
"As soon as I came back, I just felt good," Malone said.
He immediately buried a three-pointer to trim the deficit to five points.
From that point on, both teams cooled down considerably. Veritas shot 3-for-12 in the second, with all six points coming from forward Taylor Zook on short jumpers in the lane.
Seabury, meanwhile, shot a horrid 6-for-30 (20 percent) from the field in the first half, but trailed just 25-23 at the break.
Harding said he was not concerned with his team's offensive struggles.
"We came in at halftime down two, and the kids weren't happy with their play," Harding said. "I was happy with their play, but not their defense. When a team's not happy with their play and the coach is, I don't say anything."
Whatever he didn't say must have worked.
Seabury quickly tied the score at 27 on Malone's stepback jumper in the third. But it wasn't until guard Evan Sloan's offensive burst in the fourth quarter that the Seahawks finally pushed ahead for the first time.
Sloan buried a three to open the quarter that pulled Seabury to within one. He then drilled a running bank shot to push the Seahawks in front, 37-36.
Point guard Gus Wigen-Toccalino followed with a strong driving layup, and the team's leading scorer, Bill Gibbs, nailed a long three for a 42-36 lead. To that point, Gibbs had shot just 1-for-14 from the field.
Seabury (5-5) snapped a five-game losing streak by outscoring Veritas, 14-3, in the final quarter and holding the Eagles to one field goal.
"It's frustrating to be on the losing end, but we have nobody to blame but ourselves," Veritas coach Doug Bennett said. "We had several breakdowns in that fourth quarter and played like a team that was tired."
Copyright 2017 The Lawrence Journal-World. All rights reserved. This material may not be published, broadcast, rewritten or redistributed. We strive to uphold our values for every story published.