Judy Bauer reads from her work, "The Hesitation of Olivia Austin"
Nancy Pistorius reads from her work, "Peking Duck"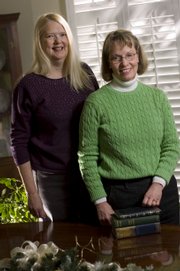 Judy Bauer has started this process before.
"I've started six mystery novels, and they're all unfinished," she says. "I'd get to the center part of the story, and I couldn't manage it anymore."
Now she has extra incentive to get one finished.
The Lawrence resident is one of two winners of the 2009 Langston Hughes Creative Writing Awards, given annually by the Lawrence Arts Center's Committee on Imagination and Place and the Raven Bookstore. The other is Nancy Pistorius, also of Lawrence.
Those entering must submit 20 pages of an unfinished novel for consideration.
The award, which comes with $500 for each winner, is given to encourage writers who have not had a poetry volume or fiction book published to finish their first work.
Both Pistorius and Bauer will be honored during a ceremony at 2 p.m. Sunday at the arts center, 940 N.H.
Rick Mitchell, the gallery director at the arts center, says the judges unanimously selected the works of Pistorius and Bauer from the 19 entries.
"That doesn't happen very often," Mitchell says. "Their work is well-crafted and confident."
Bauer is president of Bauer Management L.C. and is a former social worker and counselor at Wakarusa Valley School.
She received a Master's in Fine Arts in English and Creative Writing from Kansas University in 2007. She started her winning entry, "The Hesitation of Olivia Austin," as part of her thesis.
"It's practically completely changed since then," she says. "After working with the characters, I finally found a voice I liked."
The novel, a murder mystery, is set in a Kansas town similar to Lawrence. Its protagonist is a depressed woman who has gone through some tough times with her family.
"I guess the novel is about people who are imperfect," she says. "There are complicated characters. They do some things well and some things not so well. They have a lot of insecurities."
Bauer feels confident this time she'll be able to finish the novel — she just has to get through those tricky middle chapters.
"I've already written the last chapter," she says.
Nancy Pistorius
Pistorius, meanwhile, is primarily a freelance writer. Her work has been featured in Woman's Day, Cosmopolitan and the Chicago Tribune, among other publications.
"I basically write anything anybody will pay me for," she says.
On and off, she's also written around 10 novels but never shared most of them with anyone.
Her winning entry for the Langston Hughes contest is one of those early attempts that she is dusting off and rewriting. It's called "Peking Duck," and it examines the relationship between and man and a woman, alternating voices between chapters.
Pistorius, who has a Master's in Fine Arts in English Literature from the University of Illinois, admits writing for magazines and newspapers is a lot different from writing fiction.
"You have to almost use two parts of your brain," she says. "Writing fiction, it's more escape writing for me."
She's hoping to get her big break in the publishing industry. But she knows it will be tough.
"It's so subjective," she says.
Copyright 2018 The Lawrence Journal-World. All rights reserved. This material may not be published, broadcast, rewritten or redistributed. We strive to uphold our values for every story published.