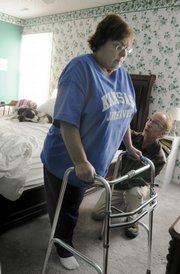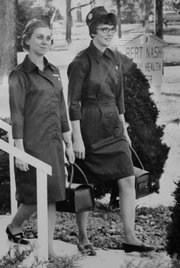 Open house
Douglas County Visiting Nurses, Rehabilitation and Hospice Care is having an open house to celebrate 40 years of service. The event will be from 4 p.m. to 6 p.m. Monday on the third floor of the Community Health Facility, 200 Maine. The community is invited. Old uniforms, pictures and scrapbooks will be on display along with a short video about the agency; refreshments will be offered.
A nurse who had moved to Lawrence from the East Coast had a vision for her new community.
She had worked for a visiting nurses association where nurses provided care inside a patient's home. She wanted to offer that same service in Lawrence.
Lyn Rothwell's vision became a reality on Feb. 2, 1969, when she opened Douglas County Visiting Nurses Association Inc. in the basement of a building at 342 Missouri. It opened with two "very, part-time" nurses, a part-time secretary and Rothwell.
Marceil Lauppe was one of those part-time nurses and she recalled walking a couple of miles to see patients. She said there were few enough to do that.
"The first patient we had, had a colostomy and was elderly and she and her husband were devastated with that. They had never heard of such a thing," she said.
Then, the nurses wore a navy blue uniform in the winter and a blue pinstripe suit in the summer.
"Things were really different," Lauppe said.
Today, the agency employs about 90 people and has about 130 clients. It has added services such as hospice care over the years. Its name — Douglas County Visiting Nurses, Rehabilitation and Hospice Care — also has grown to reflect that.
'Primitive' times
In the first building, the agency had no running water to wash their hands, so they used a pitcher of water. The bathroom was a wooden stall in the corner. They used medical storage cabinets and filing cabinets to divide the room. There was a light bulb hanging from the ceiling and tables in the center of the room where they held staff meetings.
"It was very primitive," said Janice Johnson, who began working for the agency about 15 months after it opened. She became a part-time office assistant through a high school job placement program.
Johnson said she did the billing, answered the telephone and transcribed orders. She often took orders directly from doctors, which "scared her half to death." Nowadays, such orders typically come from discharge planners and nurses.
Johnson has gone from using a manual typewriter to an electric typewriter to a computer while working for the agency. She also has moved up the ladder to human resources manager and now oversees benefits, hiring, orientation and policies.
She is the longest-serving employee and has seen the nonprofit agency move four times before landing in its current 15,000-square-foot space on the third floor of the Community Health Facility, 200 Maine. She also has worked for six different directors, but missed the chance to work with Rothwell, who was with the agency for only one year because her husband accepted a job elsewhere.
Lauppe also climbed the ladder and became the longest-serving director. She served in that position from 1980 to 2002 and then retired. She said the agency weathered many tough times.
"There were times when Medicare was way behind on payment and l had literally sat on the step until the offices opened in Topeka to pick up a check to make payroll."
She said when money was running out, a check from an anonymous donor would appear and save the day.
"The community has been really good to VNA," she said. "There has been many bequests and a lot of support from families of people who appreciate the help."
Expanding its reach
The agency provided hospice services for Nancy Rumsey's mother-in-law, who died in September.
"They gave her a little more care. They made sure she was comfortable. They kept her mouth moistened — just all of those things at the end of life," said Rumsey of Lawrence.
Rumsey now finds herself using their services as she recovers from hip replacement surgery. Physical therapist Doug Hitt provides rehabilitation services three times a week for 45 minutes. Rumsey said it is convenient because she doesn't have to leave her home. Besides answering her questions and helping with exercises, Hitt makes her laugh.
"He's a hoot," she said.
Hitt is a longtime VNA employee and has watched families grow and has helped one spouse and then the other.
"The intimacy of the home setting fits me well," he said. "You really progress through 20 years of people's lives and it's a precious thing."
Over the years, Hitt said the health care industry wants employees to do more in less time and it's frustrating. He also isn't a fan of the laptop computer that he began carrying about seven years ago. That's because computer programs want to standardize every patient's condition, but Hitt said everyone is different. So, he spends more time explaining such.
He also now spends about three hours processing a client's Medicare information. Before, it took about 90 minutes.
"I think that even though VNA is being affected by reimbursement pressures and all of those things that all of health care is experiencing, in the setting of the home, we've been able to maintain one-on-one treatment for a 45-minute period of time. That kind of intimacy and attention is rare in health care."
Party hosts wanted
The Douglas County Visiting Nurses, Rehabilitation and Hospice Care agency is gearing up for its third annual "3.d Dine, Dance and Donate" fundraiser.
The fundraiser is a communitywide social event that culminates on April 18 at the Eldridge Hotel, 701 Mass. The nonprofit agency is hoping to raise funds for its new Care Cottage, a four-bedroom assisted living residence that opened last year.
The agency is looking for people who will support its cause by:
1. Planning a party — such as barbecue, breakfast, brunch, tailgate, wine tasting — on or near April 18.
2. Inviting friends to join.
3. Asking guests to "buy" their meal or appetizers by making a donation to the VNA agency. Each host will be given a video about the agency to show to guests.
4. Bringing guests to the Eldridge Hotel's Crystal Ballroom at 8 p.m. April 18 for drinks, dancing and dessert. There also will be a local celebrity dance off.
If you would like to host a party, call the agency at 843-3738. An orientation for people who sign up is scheduled for Feb. 26 at the hotel. The agency's goal is to double the amount of hosts this year to 50.
Copyright 2018 The Lawrence Journal-World. All rights reserved. This material may not be published, broadcast, rewritten or redistributed. We strive to uphold our values for every story published.