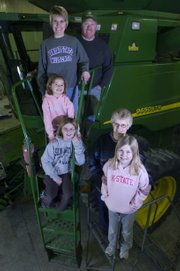 Saving our soil
Each year, awards are given to Douglas County farmers and landlords who have done an outstanding job of soil conservation.
Winners are selected by a seven-member committee of agriculture and bank leaders who tour the properties. This year's winners are:
• Soil conservation: Charles and Margaret Hodges, Lawrence, and Don and Kathy Flory, Baldwin City.
• Water quality: Mark and Brenna Wulfkuhle, Stull, and Judy Wulfkuhle, Stull.
• Wildlife: Larry McElwain and John Thomas, owners of Wak n Duk Inc. property near Wakarusa River.
• Buffer: Gary Lawson and Stan Lawson, Eudora.
• Grassland Award: Ken and Gina Baun, Overbrook.
They will be honored during the Douglas County Conservation District's annual meeting at 6:30 p.m. Feb. 9 in Building 21 at the Douglas County 4-H Fairgrounds, 21st and Harper streets.
Elementary students in Douglas County also will be honored with medals as winners in the poster contest.
To register for the meeting, call the Douglas County Conservation District's office at 843-4260, Extension 3. The deadline is Friday.
Douglas County farmer Mark Wulfkuhle just followed in his late father's footsteps when it came to conserving land.
"He was the one who had a lot of interest in the no-till farming that we are doing now," Mark said of his dad, Homer. "He kind of was an innovator on that and he was doing that when nobody else in the neighborhood was."
No-till farming is a way of growing crops from year to year without disturbing the soil.
The conventional way is to plow the ground every year, run a cultivator over it and break up the soil, and then plant seeds. The problem: A major rain can wash soil away.
"With no-till, the equipment is such that it just kind of slices a little-bitty opening and drops seeds into that, so all of the residue stays on the field and protects the soil when it rains and things until the next crop comes up," said Jim Weaver, program coordinator for the Douglas County Conservation District.
That's why Mark and his wife, Brenna, along with his mother, Judy, will be recognized Feb. 9 with the Water Quality Award at the conservation district's annual meeting. The award is sponsored by the Kansas Bankers Association.
"I think the Wulfkuhles do a great job of taking care of their land and thinking about what the next generation is going to get," said Bill Wood, director of Douglas County's K-State and Extension office and a member of the committee that selected them for the honor.
Homer, who died in 1998, first began dabbling with no-till in the 1980s. The Wulfkuhles have since transitioned to using only the no-till method on their 1,500 acres of cropland. It's paying off.
"We really feel that our soil is a lot better," Mark said. "We have more earthworm activity in our soils because we are not disturbing it. We have more structure and organic matter."
It also is helping their bottom line. For example, he doesn't have to buy fuel for machinery to plow the fields.
The Wulfkuhles also earned the award for their use of fertilizer. They received a federal Environmental Quality Incentives Program grant that allowed them to purchase special equipment that samples soil content about every three acres. That tells them how much fertilizer the area needs. The equipment also allows the fertilizer to be penetrated into the ground. This process keeps the fertilizer out of Clinton Lake and saves them money.
"If I spend $100,000 on fertilizer, I really don't want 20 percent of it washing down the creek. That would be like someone buying 20 gallons of gas and pouring 5 of it on the ground," he said.
Mark said they practice conservation to make money and preserve the land — not to earn honors.
Mark and Brenna have three daughters, Kelsey, 12, Madison, 10, and Baylee, 7.
"Most people don't realize that my children drink out of the same Clinton Lake and the same water tap as everybody else's children in the community, and it's important to me — just as it is to everyone — that the water is clean."
The Wulfkuhles also care about educating children. Every fall and spring, they introduce between 50 and 100 kindergartners to their 3,500-acre farm.
"We think ag education is very important. A large percentage of our kids no longer are raised on a farm or the country and a lot of them don't understand where their food comes from," Mark said.
One class got to witness the birth of a calf. Mark said almost every thank-you note from that class had a picture of the mother and baby calf.
"That was their big deal," he said with a laugh.
Copyright 2018 The Lawrence Journal-World. All rights reserved. This material may not be published, broadcast, rewritten or redistributed. We strive to uphold our values for every story published.