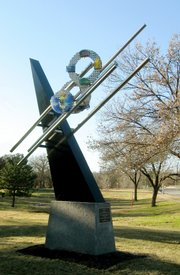 In music, Matt Kirby tries to perform the same, no matter the size of the audience.
"Whether six or 6,000 people show up, for me, it's really the same," says Kirby, a member of the Alferd Packer Memorial String Band.
The Baldwin City sculptor took the same approach to his latest artwork, even though thousands of people drive by it every day.
The sculpture, called "Pierced Sky," is on the southwest corner of 103rd Street and Metcalf Avenue in Overland Park, a heavily traveled area. The piece, which was dedicated last month, is a tribute to Johnson County bankers and philanthropists Joseph and Barton P. Cohen.
"People seem to like the piece," Kirby says. "It has a bright, positive look to it. Even if people think it looks funny, they think it looks bright and positive."
"Pierced Sky" is 18 feet tall and made of stainless steel, structural steel and cast glass. Kirby says its shapes were inspired by physics theories.
"I like the idea there's a sense of incalculable physics in the human experience," Kirby says. "The piece, while abstractly constructed, is intentionally connected to some very important harmonic numbers from the ancient world."
And those numbers, he says, weren't affected by another number — the 40,000 cars that pass by the sculpture every day.
"It just makes me very happy to know my work will be seen by a lot of people," he says.
Copyright 2018 The Lawrence Journal-World. All rights reserved. This material may not be published, broadcast, rewritten or redistributed. We strive to uphold our values for every story published.