Photo Gallery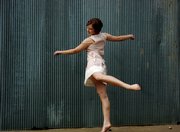 Photos by Sarah Stern
Sarah Stern, a Free State High School senior, is the ArtStar for January.
Maybe it's good that Sarah Stern now takes photos with a digital camera. It's cheaper this way.
"When I was really little, I used to go through film like crazy," Stern says. "I would get a roll of film, and I would take all 24 exposures immediately. Everyone at Dillons at the one-hour place knew me by name."
These days, photography helps Stern earn some extra cash. For three years, she's operated Sarah Stern Photography, taking senior photos and photos of weddings, children and families.
Her ability to balance art photography and commercial photography helped the Free State High School senior win the ArtStar award for January. The award is sponsored by The World Company and Jayhawk Dental.
Stern says she had an entrepreneurial streak starting at a young age.
"I would sell anything," she recalls. "I had lemonade stands. I had corn stands from my grandpa's farm — I'd go pick the corn and bring it back. I sold love potion to my neighborhood crew. So business was in my blood early on."
She says she started thinking seriously about photography in junior high when she took a series of photos of horses. When Don Stevanov, her photography teacher at Southwest Junior High School, needed an assistant to help with wedding photography, she agreed. She enjoyed the experience enough to start her own business.
"Though word of mouth, it really spread into an awesome thing," she says.
Mentoring
Throughout high school, she's also studied photography with Gary Smith, a Lawrence-based freelance photographer. The two initially connected through a community mentor program through Lawrence Public Schools.
Stern is trying to find a balance between developing her artistic side and making money with her talents.
"That's the whole intent we've always taken with it," Smith says, "to get that creative side of hers and to mine it."
He adds: "I've never had a student this interested in what I have to tell her, and make this much time for what I have to tell her. Life — it doesn't seem like you have a minute extra — and she was over here all the time, sometimes twice a week, sucking in the information I had to give her, just absorbing it like a sponge."
Stern's photos have been accepted in the statewide Merriam Art Exhibit, the Kansas Native Sons and Daughters Art Competition and Exhibition and the five-state Hays Photography Competition and Exhibition. She also has a one-person show on display through February at the Unity Church of Lawrence Gallery, 900 Madeline Lane.
Though she's best known for her photography, Stern has plenty of other artistic talents. She takes piano and guitar lessons, has taken drawing classes and currently is taking a digital media lab course at FSHS.
And when she's not doing art-related activities, she gives back to the community, tutoring at the Centro Hispano and organizing volunteer opportunities for the FSHS Key Club.
'Slash photographer'
Stern is considering several colleges for the fall, including Washington University, Tufts University and Kansas University. She wants to double-major, possibly in photography and business.
"For the rest of my life, I'll always be a 'slash photographer,'" she says. "So whatever I'm doing, when I'm traveling and when I'm out, being a photographer doesn't really go away. It's something that sticks with you your entire life."
Smith says he has no doubt Stern will be successful no matter what she chooses for a career.
"I've never seen somebody sent out into college more ready than Sarah Stern is, by a third," Smith says. "She has so many talents and so many talents that she does consistently and constantly and well, and rises to the top of these talents."
Copyright 2018 The Lawrence Journal-World. All rights reserved. This material may not be published, broadcast, rewritten or redistributed. We strive to uphold our values for every story published.