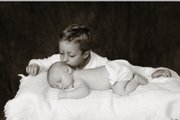 Classic black and white, or color? Props or no props? Singles or composites?
There are many options for parents when it comes to baby pictures. But the first question is whether to hire a professional for baby pictures or to do it yourself.
With the digital camera revolution, parents can now take and modify baby pictures with the assistance of photo print centers, allowing them to create their baby pictures without the cost of hiring a professional photographer.
Lawrence resident Jason Van Garsse, however, recently decided that the quality he would get out of hiring a professional photographer outweighed the cost savings of taking his own pictures of his 1-year-old daughter Julia.
"You can't hire a professional every time ... but you want to capture the moment the best you can," Van Garsse says.
Laura Wolfe, owner of White Lotus Photography, 1405 Mass., says she encourages parents to take their own pictures as a supplement to professional pictures.
"Every couple of years it's nice to have it done professionally," Wolfe says.
Baby portrait packages at her studio start around $300 or $400, and Wolfe says there is a big difference between professional pictures and those done by parents.
"You get what you pay for," she says. "You can tell the difference."
If you decide to hire a professional, local experts say there are several things to look for to make sure you get the right photographer.
Tracy Rasmussen, owner of Lawrence-based Insight Photography, 3217 Saddlehorn Drive, says experience and education are the important to look for in a photographer. Rasmussen adds that it's also important to find a photographer who interacts well with your child in order to help bring out a baby's personality in the photography.
Most photographers now have portfolio samples on the Internet, and Maggie Kruger, owner of Kruger Photography, 1117 Stone Creek Drive in Lawrence, advises parents to browse Web sites looking for a photographer who specializes in the style they're looking for.
And once they've decided on a photographer and arrive at the photo shoot? Relax.
"It's nice when the parents come in relaxed," Rasmussen says. "Let the photographer talk to the baby and develop a relationship."
Baby photos: Trends and tips
Trends in baby pictures as reported by some local photographers:
• A switch back to black and white pictures.
• Parents and siblings featured in pictures along with the babies.
• Pictures taken in incremental age stages, such as when a child is 3, 6 and 9 months old.
• More creative formats for pictures, such as using images in calendars and bookmarks.
Advice for parents who decide to hire a professional photographer for baby pictures:
• Browse various photographers' Web sites to find the style of photography you're looking for.
• Meet with the photographer for a consultation before the shoot to discuss styles, poses, and outfit choices for the pictures.
• When at the photo shoot, relax and allow the photographer to develop a relationship with the baby.
Copyright 2018 The Lawrence Journal-World. All rights reserved. This material may not be published, broadcast, rewritten or redistributed. We strive to uphold our values for every story published.