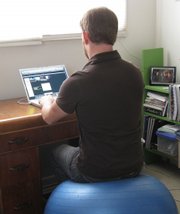 The average American office worker spends almost seven hours each day sitting at their workstation, according to Kevin Costello, president of U.S. Ergonomics, an ergonomic consulting firm.
Research conducted by his company found 90 percent of those surveyed complained of some degree of discomfort from their office chairs. Chairs that don't provide adequate support can cause more serious problems such as decreased blood flow to the legs, numbness, pressure on the lower back and shoulder aches.
"We see lots of people with back injuries, both lower and upper back, often with shoulder and neck pain," says Ryan Brandt, physical therapist and executive clinic director of Therapy Works, 4525 W. Sixth St.
Good ergonomic chairs have some articulation in the seatback. Look for chairs that offer independent depth and height adjustment of the lumbar support — but steer clear of chairs that appear overly complex.
"You want to get away from chairs with lots of paddles and levers. They're too complicated and have unnecessary adjustments," Costello says.
Look for chairs that use passive adjustments. These chairs use air bladders and memory foam to adjust to your body, based on your weight and positioning. Expect to pay between $800 and $,1000 for a new office chair — and of course, try before you buy.
A less expensive option to an office chair — and the device I was sitting on while typing this — is the stability ball. According to Brandt, stability balls are good for core strengthening. You can use them to improve strength and posture while you work. You can also challenge your co-workers to a game of office dodgeball when the boss isn't looking. And, unlike ergonomic office chairs, they will only set you back between $20 and $30.
Before you shell out your hard-earned cash for a new chair, make sure you've made the most of the one you have. For many people, the key to comfort is to become familiar with your chair and the adjustments it has.
"A huge percentage of people never even adjust their chairs," Costello says.
Make sure your lower back is properly supported. Adjust your chair so that it maintains the natural curves of your spine. Your lower back should contacting the chair; this will maintain your posture and decrease muscle fatigue and soreness.
"Good lower-body support drives good upper body support," Costello says. If your chair does not offer lumbar adjustments, sometimes relief can be as simple as putting a pillow behind your back.
Regardless of what you choose to sit on, Brandt offers the following advice when setting up your workspace: Try to keep your limbs at 90 degree angles — lower legs to upper legs, and lower body to upper body. Adjust your seat height so that your forearms and thighs are parallel when sitting at a desk or keyboard.
Copyright 2018 The Lawrence Journal-World. All rights reserved. This material may not be published, broadcast, rewritten or redistributed. We strive to uphold our values for every story published.