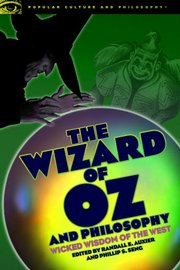 "The Wonderful Wizard of Oz," by Lyman Frank Baum, and the later movie "The Wizard of Oz," the rock musical "The Wiz," the Elton John album "Goodbye Yellow Brick Road" and the blockbuster musical "Wicked" add up to a tale that has permeated our culture.
Who doesn't know what to sing when the wicked witch melts, where the yellow brick road leads and who was Dorothy's companion on her odyssey? Now there's a book that looks at the why of all that from a philosophical point of view. "The Wizard of Oz and Philosophy: Wicked Wisdom of the West," published Nov. 25, is edited by Randall Auxier and Phillip Seng (Open Court, $18.95).
Auxier, a philosophy professor at Southern Illinois University, was approached by Open Court Publishing Co., which has produced a series of books combining popular culture icons like "The Simpsons" and Harley-Davidson with concepts of philosophy.
"They asked me to edit one or more books from a list of topics. I saw 'Bruce Springsteen and philosophy' and 'The Wizard of Oz and philosophy,' and was excited."
He chose both, first Springsteen, then he was off to see the Wizard. When he researched, he found that the 1900 book and the 1939 movie clearly reflected their times.
"The book was more for entertainment, while the film had the sense of a rising Nazi Germany with flying monkeys that looked like Luftwaffe bombers," he said.
The book raises questions about what is scary, just who the wizard is, and, as Auxier said, "Why in the world would Dorothy want to go home to a flat, gray Kansas?"
Copyright 2018 The Lawrence Journal-World. All rights reserved. This material may not be published, broadcast, rewritten or redistributed. We strive to uphold our values for every story published.