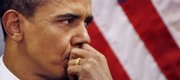 Barack Obama will become the 44th President of the United States on January 20, 2009 — the first African-American elected to the position. Many locals will make the trip to Washington, D.C., to watch the historic event. Others will watch from here in Kansas.
Presidential Memories
Purchase images from the historic 2008 election and inauguration.
Purchase commemorative copies of the Journal-World.
Wichita — Photographer Pete Souza came to Kansas from Boston looking for a tornado to shoot.
"He talked funny, because he kept putting R's in words they didn't belong in — like idea," said Julie Doll, editor of the Collegian newspaper at Kansas State University in the late 1970s, when Souza came to study for a master's degree in journalism.
Even then, Souza had an eye for capturing a moment and telling profound stories within a single photograph, people who know him say.
In Kansas, he began a photojournalism career that now includes serving as the official White House photographer for Barack Obama.
Souza, 54, knows instinctively how to coax the best out of his subjects, said Tom Bell, who worked with Souza at The Hutchinson News and now is editor and publisher of The Salina Journal.
Souza "understands his responsibility to history," Bell said.
"He has a knack for catching the right moment, like a facial expression, that shows the weight of a problem. But he does it in a unique way, by testing new angles and lighting and by going way beyond what you normally would see."
Souza has been an observer at key moments in history through most of his career. After his stint at Kansas State, he worked briefly for The Chanute Tribune and The Hutchinson News before working for the Chicago Sun-Times and later the Chicago Tribune.
He worked as a White House photographer during President Ronald Reagan's second term. In fact, he was so treasured by the Reagans, Nancy Reagan asked him to accompany the family during funeral events for the president.
After 9/11, Souza was one of the first journalists to cover the fall of the Taliban in Kabul, Afghanistan, after crossing the Hindu Kush mountains by horseback in 3 feet of snow.
Souza, shooting for the Tribune, met Obama in January 2005 on Obama's first day in the U.S. Senate. He documented Obama's first year in office, as well as the senator's trips to Kenya and Russia. He compiled those photos into the New York Times best-seller "The Rise of Barack Obama."
Kansans who remember Souza and kept in touch as the decades passed aren't surprised at his accomplishments.
"One thing we all knew about Pete was that his time was always about the photo — whether he was tearing down the road in his old blue Volvo to shoot it or holed up in Kedzie's (Journalism Hall) basement darkroom printing it," said Jolene Hoss Scholl, editor of the Collegian during the summer of 1979.
"He had passion and a tremendous work ethic — and talent. He had the eye."
Souza set the standard for photographers and reporters, Scholl said, and in the process a dream team of student journalists emerged from Kansas State.
"Because of his example we all seemed to work harder," said Scholl, who now lives in Key West, Fla.
Almost as soon as his new job was announced earlier this month, Souza began hearing from Kansas friends.
"The day the news came out, I e-mailed him and within seconds, he'd sent back a message saying, 'Thanks, Angela,"' said Angela Powers, professor and director of the A.Q. Miller School of Journalism and Mass Communications Department at Kansas State.
Kansas, Souza said, has a legacy of producing good photojournalists. That's why he came to the state.
"Perry Riddle, a Kansan by birth, once told me the reason there are so many good photojournalists from Kansas is that the land is so flat and uninteresting ... that photographers were forced to photograph the people, who were far more interesting.
"I do have Kansas blood in me," he wrote in an e-mail. "The five years I spent there in the late 1970s and early 1980s brought me many dear friends. That period of time was also when I began to develop the photojournalistic skills that made me the photographer I am today."
Copyright 2018 The Lawrence Journal-World. All rights reserved. This material may not be published, broadcast, rewritten or redistributed. We strive to uphold our values for every story published.