Photo Gallery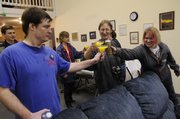 Inauguration Day in Lawrence
Photo Gallery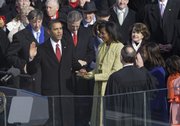 Inauguration Day in DC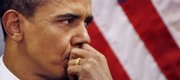 Barack Obama will become the 44th President of the United States on January 20, 2009 — the first African-American elected to the position. Many locals will make the trip to Washington, D.C., to watch the historic event. Others will watch from here in Kansas.
Presidential Memories
Purchase images from the historic 2008 election and inauguration.
Purchase commemorative copies of the Journal-World.
Washington — Sen. Edward M. Kennedy, ill with a brain tumor, was hospitalized Tuesday but quickly reported feeling well after suffering a seizure at a post-inauguration luncheon for President Barack Obama.
"After testing, we believe the incident was brought on by simple fatigue," Dr. Edward Aulisi, chairman of neurosurgery at Washington Hospital Center said in a statement released by the senator's office. "He will remain ... overnight for observation, and will be released in the morning."
The statement said the 76-year-old senator "is awake, talking with family and friends, and feeling well."
Sen. Jay Rockefeller, D-W., Va., told reporters that Obama noticed when Kennedy became ill, and rushed over to his table.
"There was a call for silence throughout the room," he said. "The president went over immediately. The lights went down, just to reduce the heat, I think."
In his remarks, Obama said his prayers were with the stricken senator, his family and wife, Vicki.
"He was there when the Voting Rights Act passed, along with John Lewis who was a warrior for justice," the newly inaugurated president said.
"And so I would be lying to you if I did not say that right now a part of me is with him. And I think that's true for all of us," Obama said.
"It looked like a seizure," said Sen. Orrin Hatch, R-Utah, who said he was with Kennedy until they reached the ambulance.
Kennedy has suffered previous seizures since he became ill and underwent surgery last summer.
Sen. Chris Dodd, D-Conn., quoted Kennedy as saying, "I'll be ok, I'll see you later" as he was put into the ambulance.
"The good news is he's gonna be fine," Dodd added.
Kennedy, 76, had appeared in good health and spirits hours earlier when he stepped out of the Capitol and onto the inauguration platform where Obama took the oath of office. His endorsement for the former Illinois senator had come at a pivotal point in the Democratic presidential race, and the older man campaigned energetically for the younger one.
Kennedy has suffered seizures since he was stricken and had surgery for his tumor last year, but it was not known what caused him to fall ill at the early afternoon lunch.
Former Vice President Walter F. Mondale said Kennedy was swapping stories with others at their table when "something happened. I don't know what it was, he just stopped."
"It was really kind of a shock to us all," he added.
Sen. Robert C. Byrd, 91, also left the luncheon early, but his office and others said his health was not the reason.
Byrd "is currently in his own office...and is doing fine, though he remains vcery concerned about his close friend, Ted Kennedy," said Mark Ferrell, a spokesman for the West Virginia Democrat.
Copyright 2018 The Associated Press. All rights reserved. This material may not be published, broadcast, rewritten or redistributed. We strive to uphold our values for every story published.