Photo Gallery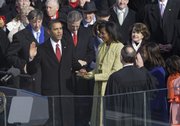 Inauguration Day in DC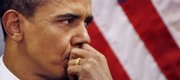 Barack Obama will become the 44th President of the United States on January 20, 2009 — the first African-American elected to the position. Many locals will make the trip to Washington, D.C., to watch the historic event. Others will watch from here in Kansas.
Presidential Memories
Purchase images from the historic 2008 election and inauguration.
Purchase commemorative copies of the Journal-World.
Washington — Law enforcement officials say the inauguration parade route is approaching capacity but most checkpoints remain open.
Secret Service spokesman Malcolm Wiley says the entrance at 13th and E streets has closed for the day. It was the only one of 13 checkpoints closed permanently.
People were being directed to other checkpoints to enter the parade route. Wiley said at 1:30 p.m. EST the parade route had not yet reached capacity.
The Secret Service has planned for about 300,000 to 350,000 people to line the route newly sworn President Barack Obama will follow along historic Pennsylvania Avenue to the White House.
Copyright 2018 The Associated Press. All rights reserved. This material may not be published, broadcast, rewritten or redistributed. We strive to uphold our values for every story published.