Photo Gallery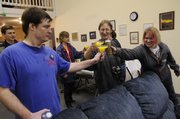 Inauguration Day in Lawrence
Photo Gallery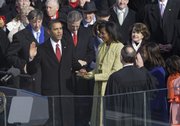 Inauguration Day in DC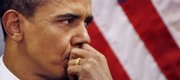 Barack Obama will become the 44th President of the United States on January 20, 2009 — the first African-American elected to the position. Many locals will make the trip to Washington, D.C., to watch the historic event. Others will watch from here in Kansas.
Presidential Memories
Purchase images from the historic 2008 election and inauguration.
Purchase commemorative copies of the Journal-World.
At Kansas University Hospital, so many people were logged on to the Internet watching inauguration ceremonies today, officials sent an e-mail asking employees to stop.
The demand on the network was large enough that other systems were affected, said hospital spokesman Dennis McCulloch.
"Patient care comes first, even during an historic event," he said.
He said though the systems were slowed, there was no impact in patient care as staff found alternative ways to access patient records during the brief slowdown.
Once the e-mail was sent, all systems went back to normal, McCulloch said.
Copyright 2018 The Lawrence Journal-World. All rights reserved. This material may not be published, broadcast, rewritten or redistributed. We strive to uphold our values for every story published.