Photo Gallery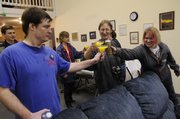 Inauguration Day in Lawrence
Photo Gallery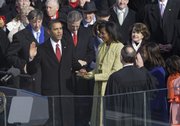 Inauguration Day in DC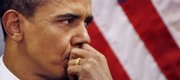 Barack Obama will become the 44th President of the United States on January 20, 2009 — the first African-American elected to the position. Many locals will make the trip to Washington, D.C., to watch the historic event. Others will watch from here in Kansas.
Presidential Memories
Purchase images from the historic 2008 election and inauguration.
Purchase commemorative copies of the Journal-World.
1:17 p.m. Several hundred people gathered at the Brown v. Board of Education National Historic Site in Topeka to watch the inauguraton on television in the refurbished elementary school auditorium.
"I'm watching with a sense of hope and renewal and opportunity for our country,' said state Sen. David Haley, D-Kansas City, Kan..
He said the proceedings made him emotional. "It's a remarkable day for our country and really for the world," he said.
During the telecast, school children waved flags. Many adults had tears streaming down their faces.
The former Monroe School was at the center of the landmark 1954 U.S. Supreme Court ruling that declared segregation unconstitional. The decision is hailed as one of the greatest human rights court cases in history.
The Brown v. Board site was opened in 2004 — the 50th anniversary of the decision — and then-President Bush spoke at the opening ceremonies.
1:11 p.m. Those who watched President Barack Obama take the oath of office said it's a day they'll never forget.
"I'm African-American myself, so I think this is definitely going to be a historical day for me to remember," said Demetrius Early, who watched the events on a TV projection screen at Buffalo Wild Wings, 1012 Mass.
"It'll be a notable event that you'll remember for the rest of your life," said Jenni Watts, a Kansas University senior from Salina.
"I'm just real happy something like this happened, it's a big change," said Wayne Jackson, a personal trainer at Lawrence Athletic Club. "It just lets you know you can do anything in this country … no matter what race you are."
"It is a big moment," said Kendall Bradley, who was watching the inauguration while exercising at the club. "It is a very big deal and it's very awesome to be a part of."
— Jesse Fray
12:53 p.m. Vicki Penner joined her daughter, Sophia Minder, in class today to watch Tuesday's inauguration of Barack Obama.
"I wanted to watch the inauguration and I decided one of the fun places to do it would be with my daughter in 5th grade," she said.
During the ceremony, Penner clapped and hugged her daughter. "For me, the election of Barack Obama, on so many levels, represents needed change," she said. "He's the best chance I think we have for rallying ourselves as a nation to make the deep changes we need."
As for her daughter, Penner says she followed along during the campaign and election, and she's excited that Obama is the leader of her daughter's generation.
"(It's) exciting to know that she'll have a model of a president that at least I really admire and she'll see what possibilities there are in good national leadership," she said.
— Lindsey Slater
12:38 p.m.Applause broke out at the Kansas University Union after President Barack Obama made his inauguration speech. Dozens of students crowded into multiple rooms at the university to watch the inaugural events on TV screens.
Employees and many of those exercising at the Lawrence Athletic Club, 3201 Mesa Way, had their eyes glued to television sets as Obama was about to be sworn in as the nation's 44th president.
Others had an early lunch at Downtown Lawrence establishments to take in the historic inauguration of America's first black president.
— Jesse Fray
11:10 a.m. All the students at New York Elementary School are watching the inauguration via Cable in the Classroom.
The students are quiet — and perhaps even jealous because one of their classmates is at the inauguration in Washington, D.C.
They were each given a wristband commemorating the swearing in of the 44th President, Barack Obama.
Each classroom is doing a different activity — including listening for specific words — to keep them engaged in the inauguration.
— Lindsey Slater
Copyright 2018 The Lawrence Journal-World. All rights reserved. This material may not be published, broadcast, rewritten or redistributed. We strive to uphold our values for every story published.