Photo Gallery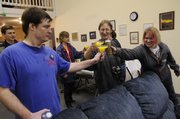 Inauguration Day in Lawrence
Photo Gallery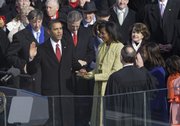 Inauguration Day in DC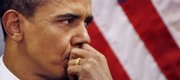 Barack Obama will become the 44th President of the United States on January 20, 2009 — the first African-American elected to the position. Many locals will make the trip to Washington, D.C., to watch the historic event. Others will watch from here in Kansas.
Presidential Memories
Purchase images from the historic 2008 election and inauguration.
Purchase commemorative copies of the Journal-World.
A Lawrence man working as a firefighter at the South Pole had to wait until Tuesday night to view a video recording of President Barack Obama's inauguration.
The video was being flown in from Antarctica's McMurdo research station, Justin Maughmer, 26, wrote in an e-mail to the Journal-World.
"We do not have any TV or radio service at the pole. I'm sure there will be party tonight while we watch it," Maughmer wrote.
Maughmer is a member of the Antarctic Fire Department and is at the Amundsen-Scott South Pole station. He flew to McMurdo by way of New Zealand on Oct. 9 and is currently on a four-week rotation at the pole.
At the time Maughmer sent his e-mail, it was it was 20 degrees below zero, with a wind-chill of 41 below, he wrote. The coldest he's experienced was 40 below at McMurdo. The pole is currently going through its "warm" season, when the son shines 24 hours a day.
Maughmer wrote that he moved to Lawrence from Garden City three years ago. He hopes to attend Kansas University in the near future.
Copyright 2018 The Lawrence Journal-World. All rights reserved. This material may not be published, broadcast, rewritten or redistributed. We strive to uphold our values for every story published.