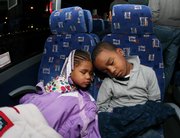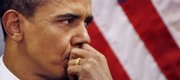 Barack Obama will become the 44th President of the United States on January 20, 2009 — the first African-American elected to the position. Many locals will make the trip to Washington, D.C., to watch the historic event. Others will watch from here in Kansas.
Presidential Memories
Purchase images from the historic 2008 election and inauguration.
Purchase commemorative copies of the Journal-World.
Atlanta — They brought hopeful dreams and financial fears, memories and memorabilia, children and aged parents as the passengers boarded buses in the dark.
Leaving the birthplace of Martin Luther King Jr., bound for the nation's capital, the 185 passengers, almost all of them black, were united in their desire to witness the inauguration of the first African-American president.
Hundreds of other buses were making the same trip from across the country. On these three buses, these passengers were powerfully drawn to the occasion by an unprecedented sense of history and pride.
Just before the caravan doors closed, prayers were offered:
"Lord, we know that this journey was always written," Victoria Wimberly, owner of First Page New Chapter Tours, said over a microphone. "We thank you for these changes you have planned for us to witness, to see the inauguration of the new ruler of this new nation. We'll never have another opportunity like this again."
There was applause as the buses pulled out of the parking lot Saturday night. Alford Arnold made sure that his mother, age 78 and known to all as Miss Frankie, and his father, 84-year-old Lawrence, were comfortable.
Arnold remembered attending the funeral of King as a child in Atlanta, walking up to the glass-covered coffin and looking down at the slain icon's face. The line was more than three hours long. But Miss Frankie knew people, so she was brought to the front with her family.
Miss Frankie was born in 1930 on a plantation in Fairburn, Ga., the last of her sharecropper parents' 11 children. She picked cotton as a schoolgirl, 100 pounds a day.
After graduating from high school, she worked for a prominent local white family — "I was maid, chauffeur, secretary, banker" — and then in food services at the local school. Her sterling character and tireless community work earned her election to the Fairburn city council — the first black person to hold such a position in her town 20 miles south of Atlanta.
Decades of service later, Miss Frankie is a Georgia treasure. She has pictures of herself with everyone from the governor to her seven children and 14 grandchildren. A few weeks ago her congressman called, unsolicited, to offer a set of precious tickets to the inauguration.
Her greatest hope for Obama: "To get all the soldiers back home. I want peace among all nations for us all to live together in loving and kindness."
Dionta Johnson sat toward the back of another bus with his three children, ages 8, 4 and 3. Conversation bubbled through the cabin as Johnson remembered being a child himself, wishing his school would teach more black history.
He wrote a paragraph in the third grade about how he wanted to become president.
"He is me," Johnson said of Obama. "He's living the dream I wrote down 16 years ago."
Johnson's children quietly ate their chicken and french fries, then fell asleep in their seats. "I want them to understand themselves," Johnson said. "This is one of the greatest moments of our history. If they understand who they are as a people, they will want to succeed in life."
Copyright 2018 The Associated Press. All rights reserved. This material may not be published, broadcast, rewritten or redistributed. We strive to uphold our values for every story published.