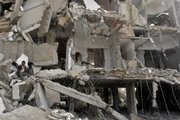 Gaza City, Gaza Strip — Uniformed Hamas security teams emerged on Gaza City's streets Monday as leaders of the Islamic militant group vowed to restore order in the shattered Palestinian territory after a three-week pummeling by the Israeli military.
Hamas proclaimed it won a great victory over the Jewish state — a view that appeared greatly exaggerated — and the task of reconstruction faced deep uncertainty because of the fear of renewed fighting and Israel's control over border crossings.
Cars and pedestrians again clogged streets. Donkey carts hauled produce and firewood past rubble and broken glass. The parliament building and other targets of Israeli attacks were piles of debris, while orange and olive groves on the edge of town were flattened.
U.N. Secretary-General Ban Ki-moon planned to travel to Gaza today to inspect damage and visit U.N. facilities hit in the fighting. Ban did not schedule meetings with officials from Hamas, whose government is not internationally recognized.
Israelis hope Gaza's civilians, who suffered heavily in the fighting that ended Sunday, will blame their militant rulers for provoking the Israeli assault with rocket attacks on southern Israel. Hamas, however, raced to capitalize on anger toward Israel and sought to show it remains unbowed and firmly in command of the Mediterranean coastal strip.
The high visibility of uniformed Hamas police stood in contrast to the furtive movements of Hamas fighters in civilian clothing who confronted or tried to evade the Israeli onslaught.
Despite the defiance, Gaza's Iran-backed leadership is likely to focus for now on assisting a traumatized population rather than re-igniting a full-blown conflict.
Copyright 2018 The Associated Press. All rights reserved. This material may not be published, broadcast, rewritten or redistributed. We strive to uphold our values for every story published.