Photo Gallery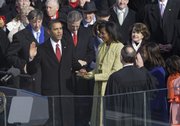 Inauguration Day in DC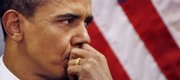 Barack Obama will become the 44th President of the United States on January 20, 2009 — the first African-American elected to the position. Many locals will make the trip to Washington, D.C., to watch the historic event. Others will watch from here in Kansas.
Presidential Memories
Purchase images from the historic 2008 election and inauguration.
Purchase commemorative copies of the Journal-World.
Washington — Vice President Dick Cheney has arrived at the U.S. Capitol in a wheelchair for the inauguration of Barack Obama.
Cheney was wheeled out behind President George W. Bush to take his place alongside dignitaries that included former Vice Presidents Al Gore, Dan Quayle and Walter Mondale.
The White House says Cheney pulled a muscle in his back while moving boxes. He and his wife are moving into a new home outside Washington in McLean, Va. His doctor recommended that he use a wheelchair for the next couple of days.
Copyright 2018 The Associated Press. All rights reserved. This material may not be published, broadcast, rewritten or redistributed. We strive to uphold our values for every story published.