Photo Gallery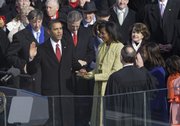 Inauguration Day in DC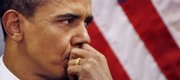 Barack Obama will become the 44th President of the United States on January 20, 2009 — the first African-American elected to the position. Many locals will make the trip to Washington, D.C., to watch the historic event. Others will watch from here in Kansas.
Presidential Memories
Purchase images from the historic 2008 election and inauguration.
Purchase commemorative copies of the Journal-World.
Barack Hussein Obama has taken the oath of office as the 44th president of the United States.
With a hand on Abraham Lincoln's inaugural bible, and before a crowd stretching across the National Mall toward where Martin Luther King Jr. spoke of his dream of racial equality, the 47-year-old Obama was sworn in as the first black American president by Chief Justice John Roberts.
Roberts told him, "Congratulations, Mr. President."
Obama's wife, Michelle, and young daughters Sasha and Malia looked on. They were joined by people from around the world who gathered in huge numbers in the early morning Washington cold to see history made.
Copyright 2018 The Associated Press. All rights reserved. This material may not be published, broadcast, rewritten or redistributed. We strive to uphold our values for every story published.