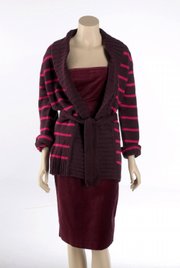 Aaron Dickson's wardrobe is 90 percent blue and red.
Other than a few high school T-shirts, his closet is a beautiful assortment of Jayhawk hues — crimson, blue, maybe even a few splotches of yellow here and there.
So naturally when the Kansas University junior found out the color purple beat out last year's lemon yellow and tangerine orange to become this season's most trendy color, he had only one response.
"People who are wearing purple need to look at where they are," he says. "What are they doing in Lawrence?"
Anyone wearing rival Kansas State's purple hues is likely to raise eyebrows in this town, even if it is fashionable.
Still, Lawrence residents are trickling out of retail stores with bags of purple garments, jewelry and shoes without giving the Jayhawks a second thought.
"That was the hot color this fall," says Thuy Soldner, manager of Kieu's Inc. in downtown Lawrence. "It's kind of bleeding into spring, too."
There's a reason for the hue's current popularity: "Purple is having its moment because we're living in a time that's very complex," says Leatrice Eiseman, executive director of Pantone Institute and author of "Colors for Your Every Mood." "In a color like purple, you have the complexity and creativity that you don't have in a straight primary color."
What differentiates the current purple trend from last fall's iteration is the exploration of the full range of its many shades and combining them in fresh ways.
"Berry tones look terrific when they're worn together. There's a real modernity when you bring all of those colors together," says Ken Downing, fashion director of Neiman Marcus, who identified "berries" as one of the season's top seven trends. One of his favorite runway shows, Proenza Schouler, incorporated bright tights in rich wines and plums.
John Fiore, meanwhile, is comfortable with purple coming into style, especially in Lawrence. He's president of the Lawrence Area Catbackers, and he has more Wildcat apparel than most anybody in Lawrence.
He says he's never been afraid to show pride for his alma mater — even in a city where purple often garners a cringe or two.
"Everybody that I know, knows that I'm a Wildcat. I wear it on my sleeve," he says. "It's not like I'm wearing black and gold around town."
But Soldner insists you don't have to be a K-State fan to shop for purple clothing. Whether its wine, burgundy or raisin that Lawrence shoppers are wearing, Soldner says purple items aren't wasting space on racks or shelves.
"Every season, there's a different color," she says. "We really try to follow trends more than anything else."
Still, Dickson won't be trading in his favorite blue Jayhawk T-shirt for a more stylish plum-colored one anytime soon.
"The 'in' of purple doesn't matter to true KU fans," he says. "We don't wear purple. We don't wear gold. We wear blue."
Copyright 2018 The Lawrence Journal-World. All rights reserved. This material may not be published, broadcast, rewritten or redistributed. We strive to uphold our values for every story published.