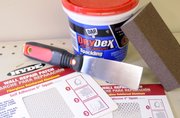 A small hole in drywall, let's say roughly the size of a door knob ... or maybe a fist... can be easily fixed with an aluminum wall repair patch, some spackle and a little paint.
Step 1: Clean the area around the hole. Brush away any loose debris and wash with a non-residual cleaner such as TSP or Dirtex. Let the area dry completely before proceeding.
Step 2: Trim the aluminum wall patch so it is approximately an inch or so larger than the hole.
Step 3: If the patch is not self-adhesive, apply a thin coat of spackling or joint compound to the surface around the hole. Press the patch into place and use a wide putty knife to smooth a thin layer of spackling or joint compound on the surface of the patch. Be sure to spread the compound evenly over the edges and onto the surrounding surface.
Step 4: Once the compound is dry, sand it lightly with a fine sanding sponge or 100 grit sand paper. Apply a second coat of compound and let it dry.
Step 5: Lightly sand the area, again, to a smooth finish and wash with TSP or Dirtex to remove any dust particles. Wait several hours or even a day to allow everything to dry completely and paint the repaired area to match the surrounding surface. Now sit back and watch as your hole problem disappears.
Copyright 2018 The Lawrence Journal-World. All rights reserved. This material may not be published, broadcast, rewritten or redistributed. We strive to uphold our values for every story published.