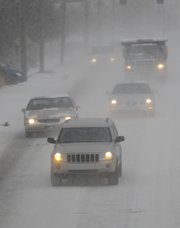 A snowstorm early Friday morning left Lawrence covered with about a half-inch of snow, causing an adventurous rush hour for some motorists.
There were 16 traffic accidents reported between 6 a.m. and 10 a.m., according to a Lawrence police spokeswoman. None involved injuries.
Lawrence city workers began treating the streets about 7:30 a.m., city officials said. The city uses a salt-and-sand mix to treat streets and it still has a good supply remaining, thanks to mild weather in November and most of December, a spokeswoman said. The snow started falling about 3:30 a.m., and ended about 9:30 a.m.
Lawrence has a new snow shoveling ordinance in effect. Homeowners are required to clear their sidewalks within 48 hours after a snow storm. Anyone who doesn't comply could be ticketed. No warnings are issued.
Douglas County Senior Services is looking for snow-shoveling volunteers to participate in a program to clear sidewalks for the elderly and people with disabilities. There are nearly 50 people on the list and not enough volunteers to cover all of them, program manager Dacia McCabe Maher said. At least 15 more volunteers are needed.
To volunteer, call 832-3338, or go online to lawrenceks.org/safe_winter_walkways.
No snow is in the forecast for several days, 6News meteorologist Matt Elwell said. Today the temperature should reach a high of 41 and on Sunday, 38 degrees, he said. Lawrence will experience a warm-up next week, with temperatures in the mid-50s, Elwell said.
Copyright 2018 The Lawrence Journal-World. All rights reserved. This material may not be published, broadcast, rewritten or redistributed. We strive to uphold our values for every story published.