Photo Gallery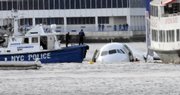 Hudson River plane crash
A passenger airliner crashed into the Hudson River in New York City on Thursday, Jan. 15, 2009.
New York — As the plane descended over New York City, its engines crippled, people ran through the aisle and bowed their heads to pray. One woman sent a text message to her husband: "My plane is crashing." Passengers were instructed to brace for impact.
Then the cool-headed pilot of US Airways Flight 1549 brought it down safely — floated it, one man said — into the frigid Hudson River. One survivor said the impact felt like little more than a rear-end car collision.
All 155 people on board survived, plucked to safety by a small fleet of Coast Guard vessels and commuter ferries that converged on the crash site within minutes. A paramedic said a woman had two broken legs, but there were no other major injuries.
"We had a miracle on 34th Street," Gov. David Paterson said. "I believe now we have had a miracle on the Hudson."
The plane, which had left LaGuardia Airport for Charlotte, N.C., on a flight that ultimately lasted only five minutes, was disabled when it collided with a flock of birds.
The pilot reported the strike and told air traffic controllers he needed to return to LaGuardia, said Doug Church, a spokesman for the National Air Traffic Controllers Association. The controller told the pilot to divert to an airport in nearby Teterboro, N.J.
Instead, for reasons not immediately clear, the pilot, identified as Chesley B. "Sully" Sullenberger III of Danville, Calif., chose to guide it into the Hudson, where the water temperature was 36 degrees.
Sullenberger "was phenomenal," passenger Joe Hart said. "He landed it — I tell you what, the impact wasn't a whole lot more than a rear-end (collision). It threw you into the seat ahead of you.
"Both engines cut out and he actually floated it into the river," he said.
In a city still wounded from the aerial attack on the World Trade Center, authorities were quick to assure the public that terrorism wasn't involved.
The plane was submerged up to its windows in the river by the time rescuers arrived, including Coast Guard vessels and commuter ferries that happened to be nearby. Some passengers waded in water up to their knees, standing on the wing of the plane and waiting for help.
Helen Rodriguez, a paramedic who was among the first to arrive at the scene, said she saw one woman with two broken legs. Fire officials said others were evaluated for hypothermia, bruises and other minor injuries. An infant was on board and appeared to be fine, Mayor Michael Bloomberg said.
The crash took place on a 20-degree day, one of the coldest of the season in New York.
Passenger Jeff Kolodjay said people put their heads in their laps and prayed. He said the captain instructed them to "brace for impact because we're going down."
"It was intense. It was intense. You've got to give it to the pilot. He made a hell of a landing," Kolodjay said.
US Airways CEO Doug Parker said 150 passengers, three flight attendants and two pilots were on board.
Copyright 2018 The Associated Press. All rights reserved. This material may not be published, broadcast, rewritten or redistributed. We strive to uphold our values for every story published.