On the street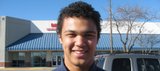 Guns. … People shouldn't have guns and be riding around with them in their cars.
-->
President-elect Barack Obama is talking about injecting billions of dollars into transportation projects to repair, upgrade and build roads, bridges, tunnels and anything else that could generate jobs and get the country's economy going again.
That's all good, Kansas University researchers say, but simply pumping money into construction projects doesn't mean the nation's systems for getting around will be all that improved.
"If we do it like we've been doing it, then we probably don't end up with anything better than we already have," said Bob Honea, director of KU's Transportation Research Institute.
Honea joined fellow KU researchers and others in discussing the issue Tuesday in Washington, D.C., where they were attending the annual meeting of the National Academy of Sciences Transportation Research Board.
They also discussed a report released by the institute, outlining the nine biggest threats to transportation.
"Finance and Investment" landed on the threats assessment, and the researchers implored the incoming president and Congress to focus on invigorating the transportation sector — for aviation, rail, auto and other modes of getting around.
And making smart investments, they said, would be key.
Creating an "Apollo project" for electric cars could take 20 years to accomplish, but would be likely to have far more benefit than simply investing in infrastructure, said Steven Schrock, an assistant professor of civil, environmental and architectural engineering at KU.
"Do you want something that is shovel-ready, or something that is appropriate for the future?" he said.
A copy of the institute's report is available at www.kutri.ku.edu.
Copyright 2018 The Lawrence Journal-World. All rights reserved. This material may not be published, broadcast, rewritten or redistributed. We strive to uphold our values for every story published.