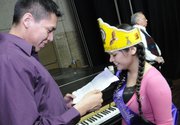 Joseph Tuckwin was one of the first students to attend what has become Haskell Indian Nations University. He attended the then-boarding school in 1884.
Five generations and 125 years later, his great-great-grandson Alex Tuckwin was one of the speakers at this year's spring convocation Tuesday.
"Haskell has been a lot of my life," Alex, a freshman, said. "Going here is kind of a family tradition."
The Tuckwin family has attended Haskell through its transformations from boarding school to high school to the university it is today.
Jerry Tuckwin, Alex's grandfather, graduated from Haskell High School in 1960. He served as head football coach and athletic director at Haskell before retiring in 2001. He currently teaches as an adjunct professor.
"I've had a great, great life as a result of Haskell," Jerry said during his convocation speech. "I've had a dream come true in my whole life."
The Tuckwin recognition marked the beginning of a yearlong celebration at Haskell. At least 12 events commemorating Haskell's 125 years will be scattered throughout the year. The university plans to end the commemoration in December with a gala recognizing 125 influential people at Haskell.
The theme of the commemorative year is "Past Legacies and Bright Futures."
"These events are recognizing and honoring those who came before and those who have helped fight to make the university what it is today," said Sharon Hallum, extension director and marketing chairwoman for the committee organizing the celebrations.
Copyright 2018 The Lawrence Journal-World. All rights reserved. This material may not be published, broadcast, rewritten or redistributed. We strive to uphold our values for every story published.