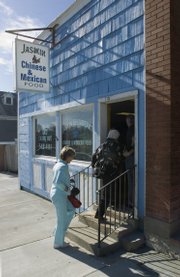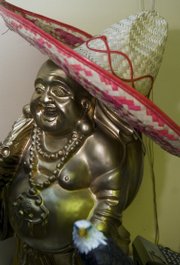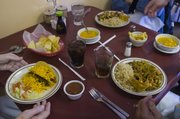 Eudora — Mexico is nearly 7,000 miles from China, but at Jasmin Restaurant the two exist side by side.
Walk into the restaurant, in downtown Eudora, and you'll see one wall covered by an ornate Chinese painting. The other wall is covered in sombreros. Next to the cash register, a golden Buddha wears one of the festive Mexican hats.
While the decor may seem a bizarre mix, it fits Jasmin's menu. The left side of the menu offers patrons a variety of Chinese dishes. On the right is a wide selection of Mexican cuisine. The crab rangoon and sesame chicken are best-selling items, but so are the bean dip and enchilada supreme.
J Ramirez had cooked for restaurants in Los Angeles and Chicago, but it wasn't until he moved to Lawrence that he decided to have his family join him from Mexico. His son Omar was 4 years old at the time.
"We moved here in July of 1990. I was little, and I remember everyone looked different; not everyone had dark hair," Omar says. "There was also a language barrier."
Nine years later, J was working in a Chinese restaurant when he decided with his wife, Maria, to open their own restaurant. While the two knew they wanted to serve Mexican food, they had difficulty deciding which other selections to offer that he had experience cooking.
"It was hard to decide what kind of cuisine to have here. I couldn't decide whether to cook Italian or Mexican or Chinese," he says. "I only wanted to do two because all three would be too much."
After deciding on Mexican and Chinese, the two chose Eudora for their location.
"It's pretty close to Lawrence, and I didn't see any Chinese place or Mexican place here," J says. "I thought it needed one."
In April 2000, J and Maria opened the restaurant, 719 Main St., naming it after their youngest daughter, who was 1 at the time. Today, the family works together to keep the restaurant running smoothly.
Maria prepares the Mexican dishes, while J handles the Chinese cuisine. Omar, who waits tables and helps out wherever his parents need him, says it's difficult to choose which parent is a better cook.
"There are some things that my mom does really well that my dad doesn't do as well," he says. "There are other things my dad does really well that mom doesn't do as well."
Omar's wife, Bethany, and sister Janet both help out waiting tables. The restaurant's namesake, now 10, greets customers whenever she's in.
Jasmin regular Roberta Lehmann appreciates what the restaurant has to offer.
"I like the service," she says. "It seems like everyone who goes in there and are regulars know Omar."
Lehmann enjoys the variety of food as well.
"I like the fact that I can go in there and get both Mexican and Chinese," she says. "Everything that I've had of both has been awesome."
Lehmann admits she usually chooses Chinese food, ordering carry-out meals a couple of times each month. She's particularly fond of the egg drop soup and the crab rangoon.
"I can make Mexican food at home, but when I want Chinese food I can get it quick and easy right here in Eudora, and I love it," she says.
According to J, the customers are the best aspect of the restaurant.
"It's fun to have a customer come in here and mix Chinese food and Mexican food, but it's what we have," he says. "Sometimes a customer will order a Mexican meal but want Chinese rice, and we can do that."
Copyright 2018 The Lawrence Journal-World. All rights reserved. This material may not be published, broadcast, rewritten or redistributed. We strive to uphold our values for every story published.