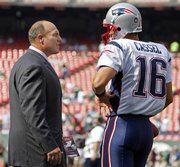 Kansas City, Mo. — Scott Pioli, who helped build and lead a dynasty in New England, is now in charge of a Kansas City franchise which hasn't won a playoff game in 14 years.
The 43-year-old Pioli will be introduced today as Chiefs general manager, replacing Carl Peterson.
"He will have complete charge of football operations," Ryan Petkoff, a spokesman for Chiefs chairman Clark Hunt, told the Associated Press. "He will report only to Clark."
The fate of coach Herm Edwards and his staff was not immediately known.
Pioli, who became vice president of player personnel for the Patriots in 2002 and spent nine years working with head coach Bill Belichick, also interviewed for the general manager vacancy in Cleveland.
He inherits a young team coming off a 2-14 season, but is stepping into a situation that seems ripe for a quick turnaround.
The fan base is loyal, though restive, and the team will be playing next year in a virtually new stadium. Arrowhead, which opened in 1972 and is notorious for being loud and rough on visiting teams, is undergoing a $325 million renovation, which includes new luxury boxes, wider concourses and enhanced amenities in addition to new practice facilities, an enlarged indoor field and a brand new state-of-the-art headquarters building.
In addition, the Chiefs are about $32 million under the salary cap, extra money that will come in handy because KC owns the overall No. 3 pick in the draft.
Besides that, there are a number of promising young players who Edwards was counting on as the foundation of his rebuilding project.
Pioli, the son-in-law of Miami Dolphins boss Bill Parcells, has been honored many times for his contributions to the Patriots' three Super Bowl championships. With Pioli working with Belichick, the Patriots used an effective mix-and-match of trades, free agent signings and draft selections to dominate the league. In 2007, six players drafted by Pioli and Belichick made the Pro Bowl.
"We are very excited to welcome Scott to the Chiefs," Hunt said in a statement.
Copyright 2018 The Associated Press. All rights reserved. This material may not be published, broadcast, rewritten or redistributed. We strive to uphold our values for every story published.