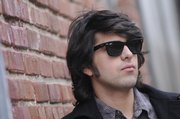 There is something attractive about a naturally put-together man. No, this does not mean uber-trendy boys walking the streets in runway-esque digs with obvious, overdone cover-up and the drippings of incorrectly applied mascara. Just recognize that Gene Simmons has already claimed that get-out-of-jail-free card!
We left the "I just rolled out of bed" look in the '90s, but still, there can be a happy medium. Thankfully this year designers are getting inspiration from classic menswear.
Dress down a dress suit:
My father and George Clooney surely would get along — both resist the necktie's choke. After years attempting to alter my dad's anti-tie sentiment, I get it. With the appropriate color combination and a fine, tailored suit, a confident man looks incredibly sharp sans tie.
Dress up blue jeans:
This season, clean lines and crisp shapes barrage the men's fashion industry. The easiest part: Your favorite Levis can come along. Slip on an overcoat or blazer for an instant style-lift. Or, even try a v-neck cardigan, button-up oxford shirt and a tie. Any fresh shirt will look great worn with fitted jeans for a night on the town. For a fun, laid-back look, cuff your jeans to show off your dress shoes — just mind your socks and belts!
Trim khakis:
JFK, Steve McQueen, Miles Davis — all icons recognize the impact of simplicity. Simple, clean, Americana. Grab a pair of flat-front khakis, my favorite old trend popping up everywhere this season. With no folds or breaks, tailor your khakis to hit perfectly at the ankle. Khakis and navy-blue sweaters can offer nautical nostalgia; a slim-fit tennis sweater can add color, but a plain white T-shirt — eye-catching yet effortless — is key. James Dean knew what was up.
Extras for impact:
One last thing: Remember Yves Saint-Laurent and Woody Allen for their large, oversize glasses? Choose a signature, personal item and stick with it. Surely you will be remembered.
Copyright 2018 The Lawrence Journal-World. All rights reserved. This material may not be published, broadcast, rewritten or redistributed. We strive to uphold our values for every story published.