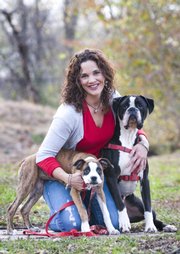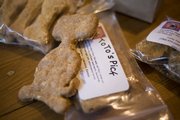 When Khristina Kirstatter got her first dog, Maggie, almost 20 years ago, she went to the store to stock up on some treats for the little pup.
When she flipped over package after package, she was appalled to see the unpronounceable ingredients on the back.
"I looked at the ingredients, and when you can't even pronounce the words, it's like, that's not good. And so I started baking for Maggie, way back then," Kirstatter says. "I was kind of a freak for even thinking about baking for your dogs, because there was no such thing."
From there, she made it her hobby to make sure other dogs ate as well as hers, soon forming the Lucky Paws Bakery. These days, the Lawrence resident has 40 to 50 dog biscuits in her repertoire — including everything from a blueberry biscuit to one with a garbanzo bean base — and even does custom cakes for doggie birthdays and holidays.
She uses organic ingredients, nothing artificial, and doesn't even dye the treats specific colors, preferring instead to focus on fun shapes and names — like Peamutt Butter Puppies and Pupparazzi Pizza Pleasers. And her clan of happy dogs gets a chance to taste-test every one before they are sold at Hy-Vee and the Casbah Market, 803 Mass., and on her Web site at www.luckypawsbakery.net.
Dianne Morgan, who is behind Good Dog! biscuits made in Lawrence, says both her clients and their pooches can tell the difference between homemade and store-bought treats.
"Yes, they are different from store brands. First, they are hand-made in small batches on a weekly basis, so they are always fresh. Second, you won't find any ingredients in our biscuits that can't be found on a grocery store shelf. And last, they taste better," says Morgan, who sells her biscuits at The Community Mercantile, 901 S. Iowa, and Pawsh Wash, 1520 Wakarusa Drive, among other places. "Ask any of our clients which product their pets prefer. My own dog won't even eat a Milk-Bone anymore."
Kirstatter concurs. She says her animals wouldn't know what to do with processed foods — and that they're better for it.
"They're no different than we are," Kirstatter says.
Copyright 2017 The Lawrence Journal-World. All rights reserved. This material may not be published, broadcast, rewritten or redistributed. We strive to uphold our values for every story published.