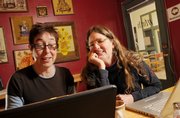 On the street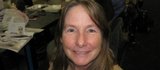 Yes, I do, to meet people, to network and to have fun.
Facebook figures
• More than 140 million active users• More than half are not in college, with the fastest-growing demographic over 25 years old• Average user has 100 friends on the site• 2.6 billion minutes are spent on Facebook each day• More than 70 percent of Facebook users are outside the United States
Source: www.facebook.com
Facebook was once the domain of college students, but today the online social network has a different face.
It's attracting such users as 49-year-old Lawrence resident Madeline Finch, who says she's used Facebook for the past year to keep in touch with friends and family.
"I think it's kind of addictive, really," Finch says. "I love it."
It also lured 58-year-old Bonnie Hall, a Lawrence resident who checks her Facebook page about as much as she checks her e-mail.
"It's just interesting to see what's going on with people," Hall says.
Since its inception, Facebook has become, shall we say, more mature.
Launched in 2004, the site initially grew rapidly among college-aged users, according to the company's Web site.
But of the more than 140 million active users today, those in college represent less than half. And the fastest-growing demographic is aged 25 and older.
Adult users say they find appeal in many of the same features that drew the younger crowd — a unique format for staying in touch.
Some also play games, upload and share photos, or advertise.
Hall says she recently used Facebook to spread the word about her high school reunion in New York. She also uses Facebook to connect with old friends over games of Twist or Scrabble.
"I like to play blackjack on there," she says.
Finch also enjoys the Scrabble games she plays with people from near and far.
"It's just a very fun, kind of chit-chatty way to play a game," she says.
For some users, Facebook has a leg up on similar programs like MySpace.
"I looked at MySpace a long time ago," Finch says. "It just didn't seem to be quite as user-friendly."
Copyright 2018 The Lawrence Journal-World. All rights reserved. This material may not be published, broadcast, rewritten or redistributed. We strive to uphold our values for every story published.