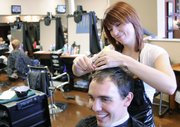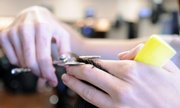 Breaking up is hard do, especially when it's with your hairstylist.
But sometimes it's necessary, especially if the customer has asked for a specific style or color and the stylist isn't listening, says Desiree Strecker, owner and stylist at Headlines Salon, 520 W. 23rd St.
"You shouldn't have to stay at a place where you're not getting what you want, especially if you're paying for it," Strecker says.
Judi McKenzie, owner of Z Hair Academy, 2429 Iowa, says that if the stylist is not offering anything new to the customer, it might be time to switch.
"People are very concerned with not wanting to hurt people's feelings, and that's a good thing," McKenzie says. "But you have to get what you need to have the look that you want."
The breaking up is so hard because it means a change, and people struggle with change, says Vickie Hull, a licensed marriage and family therapist at Lawrence Therapy Services. Changing hairstylists involves ending a relationship that has developed between customer and stylist.
"You develop a kind of intimate relationship with someone when you sit down in a chair and they touch you and your hair," Hull says. "It seems more intimate because there is physical as well as verbal communication. That makes it harder as well."
After working as a hairstylist for more than three years, Strecker says that honesty is important when it comes to trying a new hairstyle or to avoid a bad haircut from the beginning.
"Honesty is the best policy, because we're not mind readers," Strecker says. "Most hairstylists want their client to be happy and tell them what's going on."
Hull says when a bad haircut or hairstyle happens, it might even result in a sense of betrayal, especially if a customer has been going to the same stylist for awhile.
"You feel like they understand your style, and when you end up with something different than you expected, you might feel a little bit betrayed because you felt like they understood you," she says.
Hull adds that everyone has a bad day — even stylists — and that one bad haircut is not always grounds for breaking up.
"Communication is good, but I don't think that confrontation is always necessary," Hull says.
Strecker says that the client shouldn't have to explain himself or herself, but can simply tell the hairstylist they felt the need to change.
"You can be nice about it," she says. "You don't need to be rude about it. Be honest."
McKenzie says that a customer could send an e-mail or drop a note or card at the salon explaining the reasons for the switch.
But she also says that most customers avoid the actual "breaking up" with a stylist, and just don't show up for another appointment.
Throughout the years, many of Strecker's clients have become like friends and family to her. She says she would want to know if one of them decided to leave, rather than go in silence.
"It's a professional business, and we'd like to know how to improve," Strecker says. "We'll never know any of that if someone doesn't tell us."
Copyright 2018 The Lawrence Journal-World. All rights reserved. This material may not be published, broadcast, rewritten or redistributed. We strive to uphold our values for every story published.