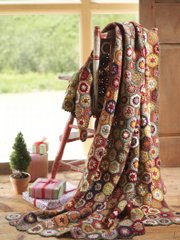 Jane Austen wrote, "There is nothing like staying at home for real comfort." Some of us are natural homebodies, but when both the weather and the economy turn frosty, we're all headed indoors for some reassurance.
Nancy Molitor, a clinical psychologist based in Wilmette, Ill., says the home is for many people an adult version of a blankie or pacifier — a symbol of security and warmth. And this new year will see us seeking both.
"The dynamics of cocooning are fairly simple," says Molitor. "I would expect to see more emphasis on soothing, pleasurable products so people can both stay home and feel more warm, secure and content at the same time."
If snuggling up seems like a good idea, here's some products designed to calm and cuddle.
Garnet Hill offers some beautiful throws, including a colorful Afghan just like Mom used to make.
At Homegoods, faux fur blankets are best-sellers at a great price point.
Finally, whip up a batch of chocolate fondue or hot milk, and throw another log on the fire.
Copyright 2017 The Associated Press. All rights reserved. This material may not be published, broadcast, rewritten or redistributed. We strive to uphold our values for every story published.