Photo Gallery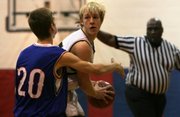 Veritas boys pick up two victories
Eudora — One month = zero victories. Twenty-four hours = two victories.
Quite a nifty equation for Veritas Christian's boys basketball team this weekend.
For more than a month, the Eagles searched for a win to open their 2008-2009 season to no avail. Six tries. Six losses. Then Friday night, they finally notched No. 1.
But salivating for one win over the weekend just wouldn't suffice.
Saturday evening, Veritas fended off St. Mary's Academy, 45-36, at the Eudora Community Learning Center thanks to cutthroat defense and one big second-quarter offensive push.
"Kind of the momentum of the season has changed," Eagles center John Hicks said. "We finally have a winning attitude."
The crucial run began with Veritas trailing, 14-13, with 6:16 left in the second quarter. Hicks hit a driving layup, drawing a foul and burying the free throw to put Veritas back in front, 16-14. Eagles forward Ethan Kay followed with a layup, Hicks converted a four-point play after being fouled on a three-point make, and senior Taylor Zook notched a jumper.
With 4:00 remaining in the half, Veritas had turned a one-point deficit into a 10-point lead, 24-14.
St. Mary's never came closer than seven points for the rest of the contest.
"It changed the momentum of the game," Hicks said of the 11-0 spurt. "We had it from there."
The Crusaders operated with an excruciatingly slow offensive strategy, taking minutes off the clock at times to find a decent shot.
"Most high school teams are not going to spend more than 30 seconds, and they're going to force up something," Veritas coach Doug Bennett said. "Our defense has been solid, but it was exceptional tonight."
Veritas (2-6, 1-1 in conference) bent defensively, but it never broke.
Case in point: Midway through the fourth quarter, Veritas forced St. Mary's into five missed shots on one lengthy offensive sequence. The Crusaders failed to score.
Senior guard Jeremiah Johnson actually credited the Eagles' offensive success for the defensive turnaround.
"Once our shots started falling yesterday, we started shooting well for the first time all season," he said. "That just helped our momentum on defense."
The Eagles slowed down their offensive attack Saturday and shot an efficient 20-for-34 from the field (59 percent).
"Our team likes to run it, but we are learning patience, and that helped a lot tonight," Bennett said.
Hicks — a transfer from Belton, Mo., in his first season at Veritas — led the Eagles with 18 points, scoring 16 of those in the first half.
"He's starting to see what we want out of him," Bennett said. "His teammates are also getting a feel for him, so I think all those pieces are just kind of falling into place."
Copyright 2018 The Lawrence Journal-World. All rights reserved. This material may not be published, broadcast, rewritten or redistributed. We strive to uphold our values for every story published.