Photo Gallery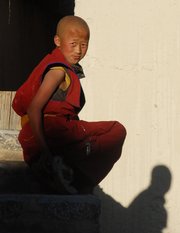 Tibetan travels
Editor's note: Kansas University graduate and former Journal-World photographer Megan True is teaching English in China. She shared this travelogue and these photos from her experiences there.
High up in the mountains near the Tibetan border lies a town called Zhong Dian, better known as Shangri-La. The city claims to be the inspiration for the setting of James Hilton's book the "Lost Horizon."
This small, bustling town is filled with Tibetan monks and adventurous backpackers eager to hike mountains or wander through traditional villages and monasteries.
Take a 10-minute car ride or 20-minute bike ride to the outskirts of town, and you will discover some of Shangri-La's Tibetan villages. As you stroll through the villages, you will be transported back to a simpler time, when you still milked the cows yourself and cooked on a wood-burning stove. You may see Tibetans bringing the herd of cows and yaks home for the day or Tibetan women bundling up the year's harvest.
If you are lucky you might get invited into a home of a Tibetan family. While you sip your yak butter tea and sample yak cheese, the woman of the house will cook up some baba, a pizza-crustlike bread for you to try. If you have time, you can milk a yak or even play a game of basketball with the local kids.
Ganden Sumtseling Monastery is a site you don't want to miss while in Shangri-La. The monastery was built in 1679 and currently has over 700 monks living and studying there. You can roam through the temples and small mazelike allies that lead to the monk's homes. If you are a woman, don't get offended if the monks won't talk to you, because it's not common for monks to converse with females. If you're lucky, the younger monks around 8 or 10 years old may be curious enough to chat or show off their monk martial art skills.
The best ways to explore the monastery is to set off in one direction and try to get lost. Who knows what you will run into — maybe a Tibetan prayer service, or monk kids throwing ears of corn at each other.
Shangri-La is a town surrounded by natural beauty: mountains, valleys and lakes. It has it all. You just need to rent a bike or car and start exploring the region and find out what makes it so inspiring. It truly could be the picturesque Shangri-La in James Hilton's "Lost Horizon."
Copyright 2018 The Lawrence Journal-World. All rights reserved. This material may not be published, broadcast, rewritten or redistributed. We strive to uphold our values for every story published.