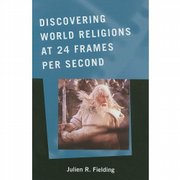 What connects 'Fight Club," "Kung Fu Panda" and "Star Wars?"
Choreographed fight scenes? Sure thing, but it's something a little less flashy than a light saber, high-tech animation or Brad Pitt's buff body.
Give up? It's faith.
Yep, each has an element of religion worth noting, says a Kansas University graduate who has written a book on the subject of movies and film. Julien R. Fielding, a 1996 graduate of KU's religious studies master's program, takes on faith in modern film in "Discovering World Religions at 24 Frames per Second."
"My goal was kind of to use only mostly current films," says the first-time author, whose book is available on Amazon.com. "I would say most of the films were made within the last ... five years. I also wanted to not be elitist in the sense that I just kind of used these obscure films that nobody had the possibility of seeing or even being able to get. So, yeah, I included 'Kung Fu Panda,' I've got 'Star Wars.' I mean, that's been talked about ad nauseum, but I kind of tried to put more of an Eastern spin on it. 'Lord of the Rings,' I have almost a whole chapter on 'Lord of the Rings.' And then 'Fight Club.'"
Melding religion and film was the perfect choice for Fielding, 38, a Nebraska native who reviews movies in addition to teaching Introduction to World Religions part-time at the University of Nebraska-Omaha.
She has used films in her classes for years but decided lay people as well as others in academia could use movies as a way to better understand unfamiliar religions — specifically Eastern religions, including Shinto, Buddhism, Hinduism and others.
The book is divided in such a way that the reader gets an overview of a religion before reading about how the religion is portrayed in a particular movie.
"I think that's the interesting thing about watching movies, is you can get things on one level and then if you know a little bit more about the subject or the symbols or myths or whatever, then it takes you a bit further into the movie," she says. "Which makes you, I think, appreciate it a little bit more."
Religion in movies
The portrayal of faith on film is nothing new, but it has taken on a different sheen in the past few years, says Henry Bial, graduate director and associate professor in the Kansas University department of theater and film.
"I'd say that we're seeing more discussion of religion in film in mainstream film then we used to see," Bial says. "I think for a long time it was considered sort of a taboo subject because Hollywood was trying to reach the broadest possible audience. And so anything beyond the kind of a warm, fuzzy everybody should be religious in the way that best fits them and 'Merry Christmas, everyone.' There was a reluctance to get too specific because of fear that audiences would turn off from depiction's of religion that weren't their own."
Which is why Fielding says she focused on Eastern religious traditions in the book. It was something that wasn't part of that wide net — in film or in logged discussion.
"I've kind of surveyed the material out there and it seemed like most of the text are written from the perspective of Christianity and Judaism in film," Fielding says. "And I thought, well, somebody really needs to address this issue of the Eastern religions in film."
Eastern religions in particular have had a spotty record with mainstream film, says Bial, who likens their appearance in film to the extraneous.
"There was a time when non-Western religions particularly, and non-Christian religions in general, were sort of exoticized and used in film to kind of spice it up, like lets put some Indian temple dancers in the corner of the shot to really emphasize how far from home Indiana Jones really is," Bial says. "And I think that can lead to a lot of dangerous misperceptions. And I think that filmmakers are becoming more sensitive to the need to be careful about that kind of thing."
Films
So, what exactly does faith have to do with "Fight Club?" Or "Kung Fu Panda?" Or "Star Wars?"
Fielding runs it down in her book, which includes 73 movies ranging from the British girl power soccer movie "Bend it Like Beckham" to Bill Murray laugh fest, "Groundhog Day." For example, says Fielding, "Fight Club" displays themes found in Daoism, Confucianism and Zen Buddhism, "Kung Fu Panda" has elements of Buddhism and Daoism and references to Hinduism and Buddhism can be found in "Star Wars." There are no explicit religious rituals in these films, but Bial points out that those rituals are generally missing from any film.
"I'd say that sort of full and frank depiction of religious rituals is still pretty rare in film," Bial says. "And some of that is for practical reasons. A Catholic Mass takes 65 minutes, put that in the middle of your film, and you don't have anymore film. So typically what you get are snippets and excerpts."
Fielding says that for this reason and others she was sensitive not to discuss certain movies in the book because they were inaccurate in what they did display. That sort of misrepresentation can be rampant in films, says Bial, because filmmakers are doing just that — making a film.
"The filmmaker's job is to tell the story, not to educate the audience," Bial says. "And if the filmmaker has to make a choice between what's going to move the story along and what's going to be most thorough and informative in regards to the characters' religion, say, they're going to move the story along and that's their job. So, you can get certainly ideas from watching a film, but you want to be really careful about thinking that you've gotten the whole story."
That said, Bial agrees with Fielding that movies can introduce people to religions of which they may not have any knowledge, but, he says, that shouldn't be the depth of one's knowledge if possible.
"I think being exposed to other religious traditions in general is good. And if the only way you are going to get people exposed to Buddhism is in 10 minutes in the middle of a kung fu movie, well, I suppose that's better than they remain completely ignorant of Buddhism," Bial says. "But it is certainly not ideal."
Copyright 2018 The Lawrence Journal-World. All rights reserved. This material may not be published, broadcast, rewritten or redistributed. We strive to uphold our values for every story published.