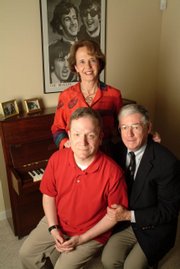 Friends and colleagues of Jay "J.T." Turnbull said they'll remember his infectious smile and secret handshake the most.
People outside the community can thank him for being the inspiration for research at Kansas University that benefits people with intellectual disabilities.
Turnbull, 41, died Wednesday of natural causes at his home in Lawrence.
He received a diagnosis of multiple intellectual disabilities at a young age. He inspired his parents, H.R. "Rud" Turnbull and Ann Turnbull, both KU professors, to research systems to improve the lives of people with intellectual disabilities.
Jay worked at KU for more than 20 years, most recently as an office and clerical assistant at the Beach Center on Disability, which his parents co-founded.
When Jay was hired, the Beach Center had been promoting the independence of people with intellectual disabilities, including their immersion into the working world, said Jean Ann Summers, research director at the Beach Center. It was an effort that was not as widespread as it is today, she said.
"If we were going to talk the talk, we were going to have to walk the walk," she said. "He's been a part of our family for all that time."
Shelby Tasset, Turnbull's job coach, said that the results were incredibly successful. He had his routines, and would always greet people with the same secret handshake — something he had picked up from a fraternity years ago.
Tasset said she was always astounded by how well he was able to integrate into the community. People everywhere — from office supply stores, to Munchers Bakery and Free State brewery — would stop, say hello and shake his hand, she said.
Turnbull knew his routines, she said, and though he would often take a roundabout way of getting somewhere, he would always get where he was going.
"He never got lost, never got turned around," she said. "Whether it was the long way around or the short way around, he always did it his way."
Services will be at 11 a.m. Saturday at Plymouth Congregational Church, 925 Vt. The family will meet friends from 6 p.m. to 8 p.m. today at Warren-McElwain Mortuary, 120 W. 13th St.
Copyright 2018 The Lawrence Journal-World. All rights reserved. This material may not be published, broadcast, rewritten or redistributed. We strive to uphold our values for every story published.