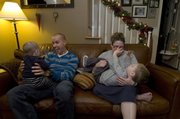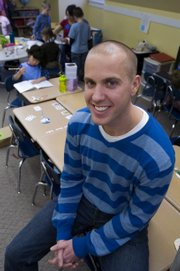 Jon Stutler has two biological children. But Mondays through Fridays he inherits dozens more.
Stutler is among the numerous Lawrence teachers who are also parents, many of whom work at the same school their children attend.
"As a teacher you get to observe all the different kids you meet and look at all the family values they've learned. You get to pick and choose from those that you'd love to see for your child," says Stutler, principal teacher at Century School, 816 Ky.
"The parallels between the classroom and home are very consistent."
Having taught at Century for 11 years, and headed it since 2001, Stutler was able to experience the joys and pains of educational parenting prior to having a family of his own.
He has a 3-year-old son, Cameron, and a 6-month old, Colby. Cameron attends Century, which caters to students ages 3 through 12.
"It used to weird me out knowing that — depending on the family — these teachers and myself may spend more time with a student per month than their parents spend," he explains.
"But I have a special luxury that a lot of parents don't that allows me at any moment throughout the day to go spend a minute with or just observe what Cameron is doing. I get to see the nuts and bolts of his day."
Teaching household
The Venn diagram of overlapping parenting/teaching gets especially complicated within the Rabiola family.
Sam Rabiola is an English instructor at Free State High School. His wife, Lori-Kay, teaches fourth grade at Schwegler School.
They have a daughter in eighth grade at South Junior High School. And their older daughter just graduated from Lawrence High School and is currently a freshman at Emporia State.
"It's not that I think teachers who don't have children can't be good teachers," says Lori-Kay Rabiola. "But I know that our children are not perfect, and that has made me a better teacher. Especially, when dealing with parents at conferences, I can honestly say, 'I understand.' For me it has made a world of difference having my own children."
Rabiola says the vast majority of teachers at her school are also parents. Inevitably, lessons learned in the classroom translate into the household — and vice versa.
"A lot of it is keeping calm. When both my husband and I are dealing with large groups of kids, that helps a lot. We can see when they're winding up and when it's time to step away," she says.
Rabiola worked at Schwegler while both her daughters attended there.
"I think more pressure was always on the girls. I don't think teachers expected more of them because their teachers were parents. But they put pressure on themselves," she says.
Multiple perspectives
Speaking of pressure ...
When Morgan Nilhas started as a freshman at Lawrence High School, her dad wasn't just teaching English at the same school — he also happened to be the principal.
The elder Nilhas is in his sixth year as principal of LHS. He says the large size of the school (1,342 students) makes the situation of having his youngest daughter in attendance easier to handle.
"At a smaller school, having your dad as a principal would be a different experience," he says. "There are days where we don't even see each other. But oftentimes we do.
"It would also be more of a challenge if you had a child who had behavior issues or attendance issues. Morgan gets good grades and is never in any kind of trouble. So that definitely helps."
Although Nilhas hasn't taught regular class in a couple of years due to his administrative schedule, he believes the skills required in the classroom "translate to life general."
"Being a parent and an educator does give you a little different perspective. I think that I can definitely relate to the challenges families have," he says.
Stutler concurs.
"It's easier to see both ends of the table when you're sitting there working with a student who is getting frustrated or emotional. The initial adult reaction is to think, 'This isn't a reason to get frustrated.' Immediately, you're grabbed by that parent side of you that thinks, 'This is kind of sad.' It certainly causes pause."
Stutler believes consistency is the greatest challenge when handling his older child, while patience is the key with his youngest.
Is it easier to deal with other people's children now that he's experienced being a parent?
"No question," he affirms. "I'm so grateful that I've had years of teaching to prepare me for parenting."
Copyright 2018 The Lawrence Journal-World. All rights reserved. This material may not be published, broadcast, rewritten or redistributed. We strive to uphold our values for every story published.