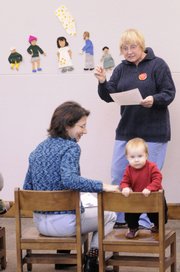 On the street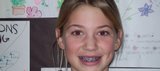 Yes, because I think it'd be cool to go to that country and learn how to talk to people.
Sure, your little one can say "Hola" to Dora and "Ni hao" to Kai Lin, but where do you turn if you want to gain more exposure to a second language?
Well, turn off the TV and put down the flash cards, the answer might be closer than you think.
1. Head to the library
In addition to books, videos and CDs, the Children's Room at the Lawrence Public Library, 707 Vt., regularly hosts Spanish and German story times.
On the third Sunday of every month, Anke Wells gently engages each child in German banter while they make traditional crafts to make a more personal connection with the culture. The craft is often followed by a song, such as the traditional "Oh, Laterne," which was recently sung by attending children as they paraded around the library with their handcrafted lanterns.
"Songs and rhymes are some of the best ways to teach young children the language," says Wells, who also teaches German at Johnson County Community College.
She opens the story time to children of all ages because she believes it's never too early to start teaching world languages.
"The earlier the better," says Wells. "With young kids there's just something in the brain that clicks."
2. Try a structured class
The Lawrence Parks and Recreation Department offers a variety of language classes for children of all age levels. And for those parents who are not fluent in the language they are trying to instruct, Phil Gratz, instructor of the Spanish Adventures class for children ages 3 to 5, says they should embrace the challenge.
"It can be fun for parents to learn along with the child. What ends up happening is they become the second set of students," says Gratz who advises parents to learn a few steps ahead of the children to aid in at-home learning.
When gauging a child's progress in a language, it is important to keep things in perspective. Betty Bunce, director of the Language Acquisition Preschool at Kansas University, says, "Preschoolers really learn fast, but they are focusing on oral language skills. Older children are also faced with learning academic language."
3. Act it out
Bunce finds that dramatic play can bring a meaningful context to new words and a sense of spontaneity that may not be found in teaching by imitation.
"We might have an airport scenario where they can play different roles, such as pilot, flight attendant, ticket agent, customer, etc.," she says. "This fosters child to child interaction where they need to communicate what they want to do or are doing."
4. Bon voyage!
And if you're feeling particularly adventurous and the economy hasn't gotten you down, now might be the time for the kids to meet those long lost relatives overseas.
Bunce attests this is one surefire approach to fluency.
"Over and over," she says, "it seems that immersion in the language and culture is one of the best ways to learn a new language."
Copyright 2018 The Lawrence Journal-World. All rights reserved. This material may not be published, broadcast, rewritten or redistributed. We strive to uphold our values for every story published.