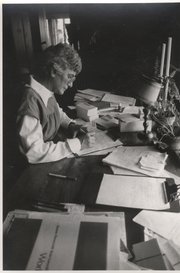 Jessie M. Branson, who spearheaded child passenger safety restraint laws in the Kansas Legislature and advocated for people with mental disabilities, died Saturday of natural causes at Lawrence Presbyterian Manor. She was 88.
Branson was active in the Lawrence community before her election to the Statehouse in 1980, working as a volunteer nurse with the Douglas County Red Cross for 25 years, founding the Lawrence Chamber Orchestra, organizing the Douglas County Association for Retarded Citizens and co-founding Kansans for Improvement of Nursing Homes in the early 1970s. She served on numerous boards and was recognized in the community and the state.
She graduated from Kansas University's School of Nursing, and dedicated her life to helping others.
Branson and her husband, Vernon, a pediatrician, moved with their children to Lawrence in 1955. It wouldn't be long until she became active in local causes.
In 1956, the Bransons and several other couples founded the Douglas County Association for Retarded Citizens, now known as ARC of Douglas County. The Bransons' son, Sam, is mentally disabled, as were the children of the other founders, including Lawrence resident Lyman Wiley.
"All of the help at the time for the mentally retarded was to put them in a state hospital, where they had no opportunity whatsoever," Wiley said. "So the purpose (of) the Douglas County Association for Retarded Citizens was to make a better life for our children, and others."
The organization began in an attic room lit by a bare lightbulb on a wire, Wiley recalled. With a budget of $17, the association grew and eventually spawned Cottonwood Inc., a nonprofit organization that provides services to people with developmental disabilities.
"My mother wasn't somebody who just accepted something. She was that way about most things in her life she felt strongly about," said Branson's daughter Rosemary Jones, of Lee's Summit, Mo.
A 'fierce' woman
Her three daughters called her as a "fierce woman," who was staunchly passionate about the arts, history and advocating for people "didn't have a fair shake."
A child of the Depression, Branson grew up on a farm in Cummings, in Atchison County. Watching her parents grapple with the hard times shaped her, Jones said.
"We understood how powerful it was for a woman of her generation ... to never give up and fight back ... and just be very committed that all children should have an equal opportunity to pursue their dreams," Jones said.
"She was a very fierce woman, but if you were hurting, she was on your side, immediately without any question," said her daughter Johanna Branson, of Medford, Mass.
Dedicated to constituents
In 1980, at age 60, Branson was elected to the Kansas House of Representatives. She served 10 years as a representative for Lawrence's newly created 44th district.
"When you think of a model legislator, she certainly would be there," said State Sen. Anthony Hensley, who served with Branson in the House. "She worked long hours, making sure her constituents knew what was going on in Topeka."
"I think she thought she was the best candidate at the time for the Democratic party. She was ready," Jones said.
While in office, she continued her advocacy for the mentally disabled, expanding funding for preschool children and passing laws to assist in the transition from schooling to employment. She was also instrumental in passing seat belt laws. In 1981, Kansas became the second state to pass a child safety seat law.
Branson also opened the door for women to belong to service groups, such as the Rotary Club, which were previously exclusive to men.
"I think her legacy is what she was able to do under the dome and with the Lawrence community," Hensley said. "She was pretty no-nonsense."
And though she shied away from the Topeka social scene and rarely held the legislative floor, Hensley said, "When she did, she was respected."
Arts supporter
Despite living during the Depression, Branson's parents paid for her to take piano lessons, fostering a lifelong love of music and the arts.
And after her husband built her a harpsichord, she founded what is now known as the Lawrence Chamber Orchestra in 1972.
"She had a natural talent," Jones said.
But the guiding theme in her life was service.
"She ended up doing all that she could in her lifetime," Jones said.
"See, that's what makes life worthwhile," Wiley said. "When you take people that are dedicated to helping others, I'm telling you that there's nothing that stands in the way."
Copyright 2018 The Lawrence Journal-World. All rights reserved. This material may not be published, broadcast, rewritten or redistributed. We strive to uphold our values for every story published.